The CDC Just Released Guidance For Another Pandemic Holiday Season
by Christina Marfice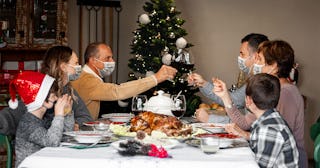 Basilico Studio Stock/Getty
The holidays are coming and we're still very much in a pandemic, so the CDC just issued an updated set of holiday season guidelines
Safe and effective COVID-19 vaccines have been available to the public for nearly a year now, yet so many people have refused to take them that we're still very much in a deadly pandemic. With the holiday season right around the corner, it's that time of year again: The CDC just released its official guidelines on how to celebrate the holidays safely. Sigh.
There are some silver linings this year: If you and your loved ones are vaccinated, you have a lot more options for a safe holiday celebration than you did last year, when cases were surging and no vaccines had yet been approved. But the highly contagious delta variant is, of course, an important factor to consider, according to the CDC, who say the safest way to celebrate this year is still virtually, with people who live with you in your household, or outside and socially distanced.
For those who plan to celebrate the holidays in-person with people from outside their immediate household, here's what the CDC recommends for keeping gatherings as safe as possible:
Get vaccinated.
Wear a mask in indoor, public places, as well as outdoors in crowded areas if case numbers are high in your area.
Stick with outdoor gatherings, if possible.
Have conversations ahead of time with those who are attending to make sure everyone knows what to expect and how to stay safe.
Don't attend gatherings if you're sick or have any symptoms of COVD-19.
If celebrating indoors, try to do so with open windows or doors to promote better airflow.
Additionally, the CDC says unvaccinated Americans should not travel for the holidays this year. If you are traveling with anyone unvaccinated in your party, including children under 12, the CDC recommends choosing safer travel options, like driving to your destination in your own car. Keep in mind that federal regulations say masks are still required on all public transportation, including buses, trains, airports, and planes — regardless of whether you're vaccinated or not.
The bottom line? If you're vaccinated, your holiday season can be enjoyed with a little less worry than last year. While breakthrough cases can happen in vaccinated people, the vast majority of those who have become severely ill with COVID-19 this year have been unvaccinated. To protect yourself and your loved ones, the best thing you can do is get vaccinated.