New Guidelines Encourage Parents And Schools To Keep Little Kids Active All Day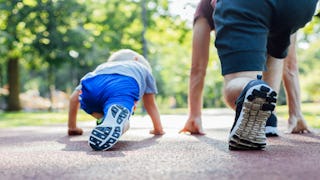 Image via Getty/Kikovic
New exercise guidelines recently released by the Health and Human Services Department urge schools and parents to keep little kids active all throughout the day, every day — and not just during recess or gym class.
The guidelines also encourage all Americans to reach a minimum goal of 2 1/2 hours of exercise per week.
This marks the first time in 10 years the federal government has updated its guidelines for exercise, and for good reason. The Department of Health and Human Services says the benefit of regular exercise reduces the risk of at least eight different cancers, reduces the risk of cardiovascular problems, and helps people think more clearly.
The updated guidelines offer suggestions that make it easier for people of all ages to achieve the exercise goal. "Instead of things getting harder and harder and harder and harder, it is actually easier to achieve the recommendations in the physical activity guidelines," says Dr. Brett Giroir, assistant secretary for health at the Health and Human Services Department.
Basically, the new guidelines boil down to making simple changes in your everyday life — and your kids' lives, too. Like taking the stairs instead of elevators and escalators. Or parking farther away in a parking lot (if you're able to) and adding a few extra steps to your walk into the store.
Here are some new suggestions for kids:
Kids ages 6-17 need at least an hour of exercise a day — including jumping rope, which helps strengthen bones.
Toddlers and small children need to keep active throughout the day, getting a minimum of three hours of light, moderate and intense exercise every day.
Parents of toddlers everywhere are like, "UH YEAH, NO SHIT." Though here's a little peace of mind: they pretty much take care of that on their own, whether they're inside or outside. They're little balls of endless, boundless, exasperating energy — and even if it depletes us completely, it's good for them!
Since getting the right amount of activity helps kids grow strong bones, maintain the right weight, and learn better — the government is hoping schools take these guidelines into consideration since that's where kids spend most of their time.
"Part of the answer is to provide kids with high-quality physical education," says Russell Pate, an exercise expert at the University of South Carolina who helped create the new guidelines. He also suggests schools offer more ways to provide active learning that allows kids to move around in the classroom and stay active.
The Center for Disease Control hopes policies that help keep communities safe will also help, so kids can bike and walk to school safely. "Everyone should have the right to walk or bike in their neighborhood," says Janet Fulton of the CDC. "Everyone should be able to walk from their homes to the park, or walk to work."