CDC Director Advises Outdoor Activities For Halloween This Year
by Julie Scagell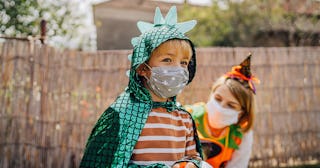 AleksandarNakic/Getty
CDC director Dr. Rochelle Wolensky urges people to limit crowds this year for Halloween
Halloween is right around the corner and if your kids are still of trick-or-treating age, you may be wondering about how to keep them safe during another pandemic spooky season. Centers for Disease Control and Prevention (CDC) Director Rochelle Walensky offered her expert advice on how to have fun and stay safe this year as the Delta variant continues to spread.
"If you're able to be outdoors, absolutely," Walensky said on CBS's Face the Nation on sending your little ones out and about in search of candy this holiday season. While she recommends people remain outdoors, she also warns against being in large groups and urges parents to "limit crowds" this year.
According to the agency, weekly rates of hospitalizations due to COVID-19 have recently increased in children ages 11 years and younger. "In fact, these hospitalization rates are the highest they have been since the start of the pandemic. The increases come as many schools across the country have resumed in-person learning," they explain. Newly reported cases are at their highest level since the end of January of this year.
According to the New York Times, we are averaging more than 2,000 newly reported deaths a day in this country, and our total number of COVID-related deaths is close to 700,000. On a brighter note, nationally, cases are beginning to decline as more and more people get vaccinated.
"I wouldn't necessarily go to a crowded Halloween party, but I think that we should be able to let our kids go trick-or-treating in small groups, and I hope that we can do that this year," Walensky continued.
Anxious parents can only wait for drug companies like Pfizer to be approved to vaccinate kids under 12. Pfizer CEO and Chairman Albert Bourla said vaccine data for kids ages 5 to 11 who have been in trials would go to the Food and Drug Administration (FDA) soon. "It's a question of days, not weeks," Bourla said.
He continued: "Then it is up to FDA to be able to review the data, and come to their conclusions, and approve it or not. If they approve it, we will be ready with our manufacturing to provide this new formulation of the vaccine," noting it's about one-third the dosage that is given to adults.
Currently, about 75 percent of the U.S. ages 12 and older has received at least one COVID-19 vaccine dose, according to the CDC. "Our science has actually demonstrated that the disease generally comes in from the community," Walensky said. "When schools are practicing a proper mitigation and prevention strategy, it is not where their transmission is actually happening."
Her advice? Mask up, stay outdoors in small groups and Halloween can be fun and safe for kids of all ages this year.