The CDC's New Mask Guidance Brought Out The Best Of Twitter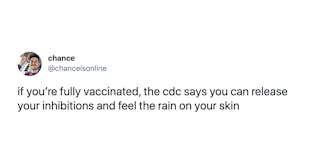 chanceisonline/Twitter
The CDC announced that masks are no longer required for fully vaccinated Americans. Here are some of the best jokes about it
In case you missed this news (really, things move pretty quickly in the news cycle lately), the CDC made a surprise announcement on Thursday, saying that people who are fully vaccinated no longer need to wear face masks or social distance, indoors or out, in most situations. The news was a little bit of a surprise, considering barely 35 percent of Americans are fully vaccinated and concerning virus variants are spreading rapidly around the world. But any step forward is a step forward, right?
"We have all longed for this moment," Dr. Rochelle P. Walensky, the director of the Centers for Disease Control and Prevention, said at a news conference announcing the decision. "If you are fully vaccinated, you can start doing the things that you had stopped doing because of the pandemic."
"Today is a great day for America," President Joe Biden said during a Rose Garden address where he and his staff did not wear masks. "If you are fully vaccinated, you no longer need to wear a mask. Get vaccinated – or wear a mask until you do."
The news was met with some skepticism, plenty of joy — and so, so, so many jokes.
People had jokes about loosening mask mandates amid another national crisis that's ongoing.
And plenty of jokes about how masks have allowed us to get away with putting minimal effort into our appearances for the last year and a half.
There were some, um, loose interpretations of what the CDC said is OK to do now.
Obviously, plenty more jokes about Future's "Mask Off," which you know is about to become the song of the summer, whether anyone actually wants that or not.
Even celebrities were getting in on the memes.
Are we really ready to change something that's been so fundamental about our lives for over a year? Maybe not, but we're sure ready to make jokes about it on the internet!
So will we all be ditching our masks right away? Let's hope not — that feels a little hasty. But will we have to finally start practicing wearing real pants again because it seems like the world may actually open up soon? Ugh, yes.