CDC Releases Guidance On Coronavirus If You're Pregnant Or Breastfeeding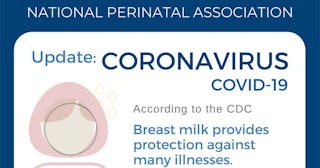 National Perinatal Association/Facebook
If you're a pregnant or breastfeeding, here's what to do in regard to the coronavirus
If you're currently pregnant or breastfeeding (and therefore have very young children), the coronavirus and how to prevent it is likely at the forefront of your mind. The CDC has officially released its recommendations for pregnant and breastfeeding moms should the coronavirus present itself via test.
Pregnancy can lead to an increased risk of viral respiratory infections, and that includes COVID-19 (the coronavirus), according to the Centers for Disease Control and Prevention. "Pregnant women experience immunologic and physiologic changes which might make them more susceptible to viral respiratory infections, including COVID-19," the CDC says.
That doesn't mean that expectant persons are at a higher risk for contracting severe diseases due to the coronavirus, however. According to the WHO, an investigation of 147 pregnant women showed that eight percent came down with severe disease and one percent were hospitalized in critical condition.
To prevent the possible spread of COVID-19, pregnant persons should engage in the usual preventative actions to avoid infection — washing hands often and steer clear of anyone who is sick. "Though person-to-person spread of the virus that causes COVID-19 has been observed in the United States among close contacts, this virus is not currently spreading among persons in the community in the United States and the immediate risk to the general public is low," the CDC reports.
The possibility of spreading of COVID-19 through delivery is still unknown at this point. Though in a limited recent case series of infants born to mothers with COVID-19, none of the infants have tested positive for the virus that causes COVID-19. Additionally, the virus was not detected in samples of amniotic fluid or breastmilk.
If you're nursing your baby and you become sick, the CDC says to continue to nurse because of the immunities found in breastmilk. "A mother with confirmed COVID-19 or who is asymptomatic should take all possible precautions to avoid spreading the virus to her infant, including washing her hands before touching the infant and wearing a face mask, if possible, while feeding at the breast," experts say.
The same goes for expressing milk through a pump or manually — wash your hands before touching any equipment and clean up after use. The CDC says if it's possible, have someone who is not ill feed expressed milk to your baby.
COVID-19 is mostly sparing children, according to reports. According to a World Health Organization-China Joint Mission report, only 2.4 percent of all reported cases of COVID-19 in China (where the outbreak started) have been children. And of that, only 2.5 percent experienced any of the severe symptoms associated with the illness. Plus, only a minuscule 0.2 percent became critically ill due to the coronavirus. There have been no COVID-19 deaths in young children reported yet.
If you're pregnant and/or breastfeeding, the CDC also recommends working with your healthcare providers to come up with the best solution for your individual situation, should the coronavirus present a threat.
This article was originally published on