Closing Schools For Eight Weeks Or More May Have Greater Impact On Slowing Coronavirus Spread, According To CDC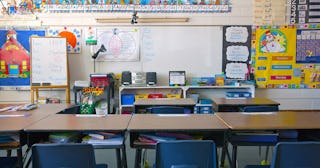 Mint Images/Getty Images
Experts also stress that parents need to take social distancing seriously
As part of the country's response to the coronavirus pandemic, schools across the country (and the world) have been closing. While many of them have opted for two- to four-week closures, the United States Centers for Disease Control and Prevention announced over the weekend that closing schools for eight weeks or more may have more of an impact when it comes to flattening the coronavirus infection curve and preventing widespread infection.
In fact, the government agency points to data finding that "early, short to medium closures do not impact the epi curve of COVID-19 or available health care measures (e.g., hospitalizations)" at all. Closing schools for longer (eight weeks or 20 weeks) may have "some impact" further into community spread, "but that modeling also shows that other mitigation efforts (e.g., hand washing, home isolation) have more impact on both spread of disease and health care measures."
"In other countries, those places who closed schools … have not had more success in reducing spread than those that did not," the CDC also pointed out.
Additionally, short-term closures could even have detrimental effects, negatively impacting older caregivers at home. Other negative repercussions include financial hardship for struggling parents, mental health issues for at-risk children who rely on school counseling, and kids falling behind educationally.
The CDC also pointed out the potential for students to still congregate despite closures, spreading the disease amongst them as well as others — something also addressed by health experts.
"This is not a snow day," Dr. Asaf Bitton, a primary care physician and executive director of Ariadne Labs, a joint health system innovation center at Brigham and Women's Hospital and Harvard T.H. Chan School of Public Health, told CNN.
Bitton urges parents to avoid group playdates and playgrounds.
"We're in serious, almost unprecedented times right now," he said. "Children were sent home, businesses closed, and people began working from home, so they would not be exposed to other children and adults who might unknowingly have the coronavirus. When people want to have the kids play with each other or otherwise normally interact, it sort of defeats the purpose."
So far, kids have mostly been carriers, either showing slight symptoms (cold-like symptoms) or asymptomatic. But because they can pass the virus on to adults easily, the goal is to slow the spread of coronavirus.
"Frankly, I wanted to send out a bit of an alarm … because going out and pretending that life is as usual certainly can't be recommended at this time," Bitton said.
This article was originally published on