CDC Says Small Gatherings Are Fueling Recent COVID Case Surge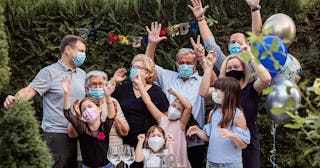 Dobrila Vignjevic/Getty
Thinking about hosting a small gathering at home? Think again — it might be a huge COVID risk
As the weather turns cold and outdoor activities become fewer and far between, the fear is very real that the U.S. will see yet another surge of COVID-19 infections. This would be particularly awful news, considering we still haven't managed to slow down any of our previous surges from the eight months of the pandemic so far. And to make things worse, the CDC is already warning us that it's no longer crowded spaces or large events that are causing the virus to spread — it's small group gatherings, usually in people's homes. So much for all our social lives this winter.
CDC Director Dr. Robert Redfield held a call with state governors this week, where he initially applauded the job we're doing at curbing the COVID-19 pandemic in public spaces.
"In the public square, we're seeing a higher degree of vigilance and mitigation steps in many jurisdictions," he said, according to CNN, who obtained audio of the phone call. Unfortunately, though, Redfield's news wasn't all good. Far from it.
"But what we're seeing as the increasing threat right now is actually acquisition of infection through small household gatherings," he continued. "Particularly with Thanksgiving coming up, we think it's really important to stress the vigilance of these continued mitigation steps in the household setting."
By "mitigation steps," he means continuing to wear masks whenever you spend time with anyone who isn't in your immediate household. Hold gatherings outdoors whenever possible, since COVID-19 spreads much more easily in enclosed spaces. In fact, Dr. Jonathan Reiner, professor of medicine at George Washington University, said he'd advise people just to not have gatherings at their homes unless they can be held outside (like in a backyard) where people can stay a safe distance apart from one another. Unfortunately, yes, that includes Thanksgiving.
This comes on the heels of Dr. Anthony Fauci's warning that the nation is "facing a whole lot of trouble" as cases continue to surge and winter approaches. The number of people hospitalized with the virus rose by at least 5 percent in 36 states according to CNBC. "That's a bad place to be when you're going into the cooler weather of the fall and the colder weather of the winter," Fauci says. "We're in a bad place now. We've got to turn this around."
To turn it around Americans will need to make some tough choices in the coming months and use caution. "If you're lucky enough to live in a part of the country where the weather will be moderate in November, do an outdoor Thanksgiving. (But) I think in the … places in the country where the winter comes early, I think you have to really be careful," Reiner said. "The consequences of this virus, particularly for older folks — the people that we really want to gather with on Thanksgiving — can be really dire. And, frankly, I'd rather do a Zoom Thanksgiving with people that I love than expose them to something that might kill them. Next year is going to be much better. Let's get through this, and let's get through it safely."