CDC Lays Out New Travel Guidance For More Than 120 Countries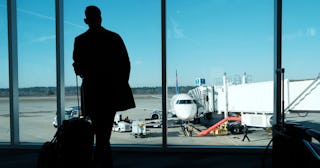 Spencer Platt/Getty
The CDC's new travel guidelines ranking countries' Covid-19 risk might have you itching to book a flight
Summer is just around the corner, and the Centers for Disease Control and Prevention (CDC) is offering updated travel guidance for Americans looking to leave the country.
The newly posted guidelines categorize more than 130 countries into four levels of risk. It recommends avoiding travel to level four countries altogether, but notes that if you have to go, you'll want to make sure you're fully vaccinated first. Countries in that group include Argentina, Brazil, India, Pakistan, and several dozen others, all of which are still seeing at least 500 cases per 100,000 residents over the past four weeks.
For level three countries, the CDC warns travelers to make sure they get vaccinated, and tells unvaccinated people to avoid nonessential travel. Included in this group are destinations like France, Germany, Japan, and Canada. Cases in these countries fall somewhere between 100 and 500 per 100,000 residents. The U.S. also now falls into this group, after being downgraded from a level four — so congrats to us, I guess, on longer being a total disaster?
Level two countries are classified as a "moderate" Covid-19 risk, and the CDC says unvaccinated travelers who are at high risk should avoid them. This smaller group includes countries like Bermuda, El Salvador, and Kenya.
The lowest risk level for level one countries could make them hot spots for summer travel this year. The CDC recommends anyone traveling anywhere first get vaccinated, but other than that, there are no warnings against one of the level one countries. They include Caribbean spots like St. Kitts and Nevis, the Cayman Islands, and Belize, as well as larger countries like Australia and New Zealand. These countries are all seeing less than 50 cases per 100,000 residents, and it's easy to see how that could be tempting for anyone looking for a getaway.
There's certainly lots of pent-up demand for travel, considering so many of us spent the last year plus cooped up at home — the TSA is already bracing for a huge spike in air travel this summer. But of course, just because you can travel doesn't necessarily mean you should — or that any of these countries necessarily want hordes of Americans showing up on their doorstep when the pandemic isn't really over yet. Plus, kids under 12 aren't eligible for vaccines at the moment, so many of these guidelines won't apply for them — leaving parents with tough choices to make this summer.