CDC Director Urges Parents Get Their Teens Vaccinated
by Kristine Cannon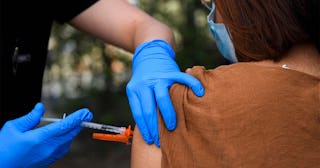 PATRICK T. FALLON/AFP/Getty
According to a new CDC study, hospitalizations for teens with COVID-19 increased in March and April
As states continue to urge Americans get vaccinated against COVID-19 — with many going as far as to offer cruises, guns, and even $1 million in cash — the CDC is now urging parents to vaccinate their teens, especially following the release of a new study showing increased hospitalizations among adolescents with COVID-19.
"I am deeply concerned by the numbers of hospitalized adolescents and saddened to see the numbers of adolescents who required treatment in intensive care units or mechanical ventilation," CDC Director Rochelle Walensky said in a statement on Friday, per The Washington Post.
According to the CDC's June 4 study titled "Hospitalization of Adolescents Aged 12–17 Years with Laboratory-Confirmed COVID-19," hospitalizations among the more than 200 hospitalized youths increased from March to April, and among those hospitalized, nearly one-third required intensive care unit admission, and 5 percent required invasive mechanical ventilation. About 70 percent had at least one underlying medical condition (the most common being obesity), and nearly 30 percent had no reported underlying condition.
While the hospitalizations did not lead to any deaths, the CDC states that the increased hospitalization rates reinforces the "importance of continued COVID-19 prevention measures, including vaccination and correct and consistent mask wearing among persons not fully vaccinated or when required."
"Much of this suffering can be prevented," Walensky said, adding that she urges parents, relatives and close friends to talk with teens about the importance of COVID-19 prevention strategies and encourage vaccination.
"The truth of the matter is, kids wouldn't have to get vaccinated if all the adults would," Dr. Amy Edwards, associate medical director of Pediatric Infection Control at UH Rainbow Babies and Children's Hospital in Cleveland, tells CNN. "I think then you'd have so little community spread that it wouldn't be a problem. However, we know that a huge chunk of adults aren't going to get vaccinated, and that leaves some kids vulnerable, and that's why they need the vaccine."
While most COVID-19 hospitalizations occur in adults, especially older adults, severe cases can occur in people of all ages. According to the new study, hospitalization rates stabilized for those 65 and older as hospitalizations increased among the age group that's not nearly as vaccinated.
According to The New York Times, more than 70 percent of Americans age 65 and older are fully vaccinated. Teens age 12 and older, on the other hand, were approved the Pfizer vaccine as recently as last month.
"We really need to add another group of children to be vaccinated to come across that threshold to reach herd immunity," Dr. Claire Boogaard, a pediatrician and medical director of the COVID-19 vaccine program at Children's National, tells CNN. "Everyone has the right to ask questions and "be thoughtful about this, especially when it comes to kids."
According to Walensky, vaccination is the way out of this pandemic.
"I continue to see promising signs in CDC data that we are nearing the end of this pandemic in this country," she said. "However, we all have to do our part and get vaccinated to cross the finish line."