CDC Gives Go-Ahead For Fully Vaccinated Grandparents To Visit Grandkids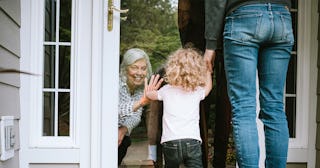 RyanJLane/Getty
The news grandparents have been waiting for
Finally a bit of good news coming out of the pandemic — the CDC just announced that people who are fully vaccinated against the coronavirus can gather with small groups from other households without wearing masks or physical distancing. This means grandparents who have had both Moderna or Pfizer vaccines or one shot of the new Johnson & Johnson vaccine can finally visit their healthy grandkids, even if the kids themselves aren't vaccinated.
RELATED: Are Grandparent's Rights A Real Thing? Here's What You Need To Know
A fully vaccinated person can officially spend time around unvaccinated family and friends providing those people are low risk for severe disease. What's more, fully vaccinated people can be indoors without wearing masks or physical distancing if they are around other fully vaccinated people. This is the first federal public health guidance that's been given for people who are vaccinated in the U.S. A person is considered fully vaccinated two weeks after they've received their final dose.
According to the CDC's vaccine tracker, more than 90 million vaccine doses have already been administered, which breaks down to approximately 59 million people who have received at least one dose, and more than 30 million who have received two doses (or ten percent of the U.S. population).
"As more Americans are vaccinated, a growing body of evidence now tells us that there are some activities fully vaccinated people can do," CDC director Dr. Rochelle Walensky said during the White House press briefing this morning.
The CDC said people who are fully vaccinated can, "Visit with other fully vaccinated people indoors without wearing masks or physical distancing, visit with unvaccinated people from a single household who are at low risk for severe COVID-19 disease indoors without wearing masks or physical distancing, and refrain from quarantine and testing following a known exposure if asymptomatic."
This is big news for families who haven't been able to see each other during the pandemic due to concerns over their more vulnerable family members. "For example," the CDC wrote in a statement, "fully vaccinated grandparents can visit indoors with their unvaccinated healthy daughter and her healthy children without wearing masks or physical distancing, provided none of the unvaccinated family members are at risk of severe COVID-19." Those at high risk remain anyone over the age of 65, or those with underlying health conditions.
The guidance still comes with precautions for those who are fully vaccinated, including avoiding "medium- and large-sized in-person gatherings." The agency also continues to urge everyone to keep up with personal hygiene like hand washing, wearing masks in public places, and adhering to physical distancing guidelines.
"There are some activities that fully vaccinated people can begin to resume now in the privacy of their own homes. Everyone – even those who are vaccinated – should continue with all mitigation strategies when in public settings," Walensky added. "As the science evolves and more people get vaccinated, we will continue to provide more guidance to help fully vaccinated people safely resume more activities."
This article was originally published on