All Of The CUTEST Father's Day Instagram Posts From Celebs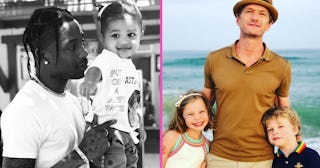 Kylie Jenner/Instagram and David Burtka/Instagram
Celebs went all out with sweet Father's Day Instagram posts including touching messages and adorable photos
Yesterday was the day to celebrate all the great dads in our lives, which meant social media feeds full of sweet Father's Day tributes to husbands, dads, stepdads, and grandpas alike. Celebrities are no different when it comes to honoring the guys who wear that title proudly and telling the world just how special they are. So many famous folks took to Instagram this weekend to shout out the dads they know and love — while of course including adorable photos of them with their littles. Here's some of the best of the best.
First of all, please take a moment to collect yourself before feasting your eyes on the pair of Father's Day posts shared by Neil Patrick Harris and husband David Burtka. These two are certainly no strangers to making us all melt with photos of their sweet family, but their twin declarations of love for each other and admiration for the other's parenting are simply too much to take.
Harris calls Burtka "selfless, creative, kind, stylish – just, everything" and Burtka says his husband is "caring, patient, fun and most of all, full of LOVE." We're not crying, YOU'RE crying.
Former Dawson's Creek heartthrob James Van Der Beek used the day as a chance to share what fatherhood means to him and sent out wishes to all the "imperfect dads out there, trying their best and learning on the job."
Kylie Jenner took the opportunity to gush at partner Travis Scott, thanking him for all he does and the love he shares with their baby girl Stormi. Awww.
https://www.instagram.com/p/Byy3WooHSG0/?utm_source=ig_embed
Speaking of Kardashians, Kim called Kanye "the best daddy to our kids" and posted a series of shots of their family on the beach. It's his first Father's Day as a dad of four now that little Psalm has joined the crew.
Hilary Duff got ultra gushy about partner Matthew Koma, who is dad to their baby girl Banks, born last fall. "You always put us first," she writes. "You know exactly what to say. Affectionate beyond. Calm and strong. The kids don't even know how lucky they are that it's you…. but they will."
Carrie Underwood had her second son earlier this year, which makes this Father's Day the first as a dad of two for husband Mike Fisher. She calls the family "lucky" to have him and put the sentiment alongside a cute pic of Fisher living that toddler/infant life.
Jessica Simpson was sure to credit husband Eric with "always putting love first" while also signing off as a "family of 5" for the first time after the birth of their third little one, Birdie Mae, in March.
Carey Hart and Pink both took to the 'Gram for some Father's Day sweetness with Carey using the moment to thank his wife for choosing him "to be Papa to these two amazing children."
Pink told Carey that their kids will one day "know how lucky they are to have you" and that she's already there. How freaking sweet are they.
Not to be left out of all the daddy day cuteness, across the pond, both Prince Harry and Prince William got Father's Day nods of their own with the Sussex family's official account sharing the cutest pic of new baby Archie.
William's post included a precious photo of him playing with the littlest of their clan, Prince Louis, and an image of him with his own father, Prince Charles.
Ayesha Curry called husband Steph "the best" and "unmatched" when it comes to daddy-ing, along with sweet video of him with their littles.
Because we apparently could always use a dose of their super gorgeous family, Victoria Beckham shared a shot of husband David with three of their brood of four kiddos. "Truly the best daddy in the world x we love u so much x kisses," she writes.
Eldest Beckham son Brooklyn also shouted out his dad with a painfully cute shot of him during his soccer days. He called his dad "…the best and always have been."
In the interest of ending on the swooniest note possible, here's Michelle Obama's throwback tribute to Barack, pictured with his girls when they were a whole lot littler. We can't even.
If obsessing over celeb Father's Day Insta posts is wrong, we don't want to be right. Until next year, adorable, famous dads.
This article was originally published on