These Celeb Moms Get REAL About Motherhood, And We Are Here For It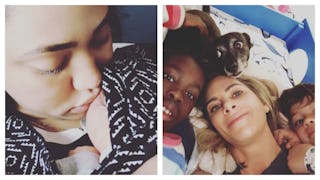 LEFT: Ayesha Curry/Instagram; RIGHT: Jillian Michaels/Instagram
Motherhood is filled with expectations.
The social media world expects us to believe that new and old moms alike have the ability to be great, do great, and look great. But these celebrity parents are rejecting that myth, by getting real about, well, EVERYTHING! And we couldn't be happier about it.
Chrissy Teigen
Chrissy Tiegen recently posted a Twitter video captioned "Mombod alert!" During the vid, she shares an image of her stretch marks and says, "I guess these just aren't gonna go away." Later in the video, she talks about how it's hard to feel good about your body when you're surrounded by images of women who seem to come out of labor runway ready. We feel you, Chrissy.
Cardi B
Since giving birth, Cardi B has been hilariously vocal about the expected and unexpected adjustments motherhood has required. She addressed the post-birth fears of many moms when she posted a public statement saying that, while she was sad to miss out on going on tour with Bruno Mars, her child came first.
Ali Fedotowsky
Recently, Ali Fedotowsky went public saying that she and her husband have had to sleep in separate beds to adjust to the divide-and-conquer nature of multi-child parenthood. She even goes on to discuss the ways that children can impact intimacy in a relationship. Total cock blockers, those kids.
Serena Williams
If you've ever found yourself questioning your success as a mother, you're not alone — so has Serena Williams. After a recent tennis defeat, she let us all in on what it's like to have postpartum blues.
"Last week was not easy for me," said Williams. "Not only was I accepting some tough personal stuff, but I just was in a funk. Mostly, I felt like I was not a good mom." Her post goes on to discuss feelings we've all dealt with but ends on a hopeful note.
"I'm here to say: if you are having a rough day or week–it's ok–I am, too!!! There's always tomm!"
Ayesha Curry
Basketballs' favorite family welcomed their third bundle on July 2, 2018. A few months ago, Ayesha authored a post telling us how she wishes she felt like a "maternal goddess," but instead, she was battling hyperemesis gravidarum, or extreme morning sickness.
After the arrival of their third child, she has shared Instagram images chronicling her new adventures as a mom of three. She also briefly mentions that she is facing struggles with nursing for the first time and wants to make sure all of her children get the love they need.
"Just keeping it real, you lose a little bit with each baby and it never comes back ahah!"
Jillian Michaels
During an interview with People, the fitness guru and mom of two talked about things ranging from how she handled finding out her son pooped in the middle of his school parking lot to having conversations with her daughter about sexuality.
"I've had many parenting moments I'm not overwhelmingly proud of," she said honestly.
We have too, Jillian. WE HAVE TOO.
Jada Pinkett Smith
https://www.instagram.com/p/BjnKFhMnv4h/?hl=en&taken-by=jadapinkettsmith
Jada's Facebook Watch series "Red Talk Table" offers new insight to the highs and lows of parenting she experienced with her daughter. Each episode has a different topic and some really tough convos like masturbation, body insecurity, and even monogamy, have come up. All of this insight coming from three generations of Black women!
Drew Barrymore
Our favorite '80s childhood actress has been using Instagram as a platform to give tips on how to talk to your kids about being a working mom. She focuses on teaching her daughter that work is a source of empowerment, not a source of frustration.
"I always explain to her that I love my Job. I don't say 'I have to go work' with a grimace on my face because I fear it will make her feel negative about something a lot of moms must do to provide," she wrote earlier this year.
Hilary Duff
Hilary is soon to be a mom of two. She's already speaking our language when she's discussing the struggle of trying to do it all.
"I don't always balance it all, I do the best that I can, and some months are crazier than others," Duff said to E! News in an exclusive interview. She also talked about how vital is it to take some time for yourself. But she really stole our hearts when she recently posted the ups and downs that accompany a changing body during pregnancy.
Parenting ain't easy. Seeing celebrity moms discuss their struggles is therapeutic for all of us. Here's to authentic motherhood!
This article was originally published on