Celebrities Join Shooting Survivors In Boycotting FedEx Over NRA Support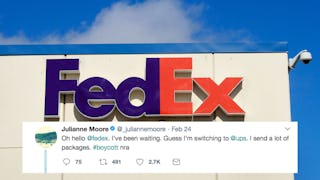 Image via Scott Olson/Getty Images/Twitter
Celebrities are calling on FedEx to end its NRA support
Celebrities have joined the survivors of the mass shooting at Marjory Stoneman Douglas High School in a boycott of FedEx for their support of the National Rifle Association. While grieving for the 17 people who lost their lives in Florida, the students who lived through the tragedy have worked tirelessly to push for common sense gun control in this country. And they're not alone.
Actors, musicians, filmmakers and other famous names took to Twitter this weekend to vocalize their support for boycotting FedEx until the company cuts ties with the NRA. FedEx offers members of the gun association up to 26% in discounts as part of a deal it has with the NRA Business Alliance, according to the Daily News.
They join Parkland survivors in calling for FedEx to sever its ties to the NRA.
So far the shipping giant has refused to comment on the boycott. It also stopped using the social media platform Twitter when news of the boycott went viral. It's bizarre that this is a hard choice for FedEx executives to make since the NRA only has 5 million members. That's a small amount of the American population, which totaled 323.1 million in 2016, according to census data.
Plus, lots of other businesses have ended their similar discount programs with the NRA following the horrific shooting in Florida. Thanks to the survivors who've called on corporations to cut ties with gun lobbyists, there's more pressure than ever to stop doing business with an organization that refuses to discuss gun reform options that the majority of Americans support – like universal background checks.
In addition to Delta and United Airlines, car rental companies Enterprise, Alamo, National, and Hertz all ended existing partnerships with the gun group. Hotel groups Best Western and Wyndham joined the growing list of corporations who will no longer offer discounts to members of the NRA. And MetLife and Chubb insurance companies announced their cancelation of special policies for the gun association.
Nothing worthwhile happens overnight, but the FedEx boycott is a small step in the right direction. As we fight to protect our children from senseless school shootings, we'll all need to demand change from the companies, organizations, and politicians who support the NRA.