This Is How All Your Favorite Celebrities Spent The Holidays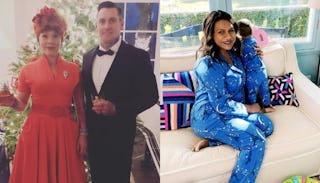 Image via Pink/Instagram/Mindy Kaling/Instagram
Warning: you will wish that you were there
Hopefully you've spent the last few days snuggled up on the couch, drinking something warm (or cold), and hanging out with all your loved ones. Now, it's time to turn your attention to all of your favorite celebrities and see how they spread some holiday cheer. Because, we could all use a little Reese, Mindy, and The Rock in our lives.
Let's start with Mindy. She posted a picture of her and her baby daughter wearing matching PJ's, waiting for Santa to arrive. Does this make you want to watch every single episode of The Mindy Project and never leave your house again? Yup, me too.
Hilary Duff took her kids to see Santa Claus…and one of them was super, super not into it.
The Rock gave his daughter an adorable tour of all her presents and prepare for your heart to burst into one thousand pieces.
Meanwhile, Jessica Simpson spent her Christmas in a leopard onesie because why the hell not?
Why yes, you do need a picture of John Legend and Chrissy Teigen's baby dressed up as Santa Claus to brighten your day.
And Teigen enjoying some special time with sweet Luna.
You also definitely need this picture of Will Smith and Jada Pinkett Smith dressed as Santa and Rudolph.
Their entire family was looking adorable, TBH.
Oh hi, Lucy and Ricky.
https://www.instagram.com/p/BrbhoUhB440/
There are few things more joyous than seeing Reese Witherspoon with all her mini-me kids.
SO MANY KARDASHIANS TO KEEP UP WITH.
https://www.instagram.com/p/BrxjuZ-ngrj/?utm_source=ig_embed
Literally no one deserves a merrier Christmas than Mariah Carey, creator of the ULTIMATE holiday jingle "All I Want For Christmas Is You." I plan to listen to that song on repeat until it's no longer socially acceptable.
Well, there you have it. So much holiday cheer courtesy of all our fave celebrities. Now, go rewatch Love Actually for the millionth time and pretend that Reese and Mindy are your BFFs and The Rock is your best friend/til-death-do-us-part soulmate.