Celebrities Pay Tribute To Kobe Bryant And His Daughter After Helicopter Crash
by Christina Marfice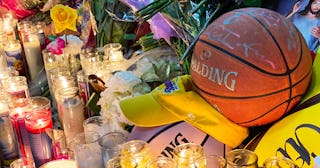 CHRIS DELMAS/Getty
Celebrities are just as shocked and dismayed as we are at the sudden death of Kobe Bryant and his daughter
When news broke that Kobe Bryant and his 13-year-old daughter Gianna were among the nine people killed in a helicopter crash in California over the weekend, it shocked the world. 41-year-old Bryant was a legend both on and off the basketball court where he gained fame and cemented his career as one of the best professional players the sport had ever seen. His daughter, whom he called Gigi, was a rising star in the sport, on her way to play at the Mamba Sports Academy in Thousand Oaks, where her dad planned to coach.
RELATED: Poignant Condolence Messages To Express Loss And Sympathy
In both the basketball and celebrity worlds, people were shocked, stunned, and in tears, and took to social media to share their disbelief and their grief.
Chrissy Teigen and John Legend were quick to note that news of Bryant's death came as the Grammys were about to take place in the Staples Center, where he led the Los Angeles Lakers to so many victories.
Many celebrities who had known Bryant or met him during their careers shared throwback photos, including Will Smith and Kanye West.
Many posted tributes to Bryant, but also to his wife, Vanessa Bryant, and his three other daughters who were not involved in the crash.
From all over the world, tributes were posted, and they encapsulate the shared heartbreak the entire world is feeling at this stunning and tragic loss.
https://www.instagram.com/p/B7zBigQnmV_/
https://www.instagram.com/p/B7zH3B2DFG4/
We can only hope that Vanessa Bryant and the rest of the late basketball star's family can feel all the love that's pouring in from all corners of the world. None of us can fathom what they're going through now, but the entire world is supporting them.