Celebrities Send Demi Lovato Loving Messages After Reported Overdose
by Thea Glassman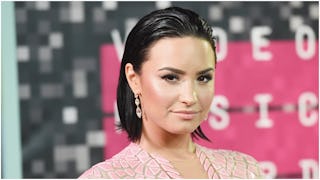 Image via Jason Merritt/Getty
Celebrities sent messages of support to Demi Lovato following overdose
The Twitterverse wants Demi Lovato to know that she is so, so loved following a possible overdose. Messages of support poured in from celebrities and fans alike, wishing the singer a healthy recovery.
On Tuesday, Lovato was taken to a Los Angeles hospital after an alleged drug overdose. According to TMZ, the singer was found unconscious in her home and was revived with Narcan, a medication that treats narcotic overdose.
Thankfully, she's doing okay now. "Demi is awake and with her family who want to express thanks to every one for the love, prayers and support," the singer's rep said. "Some of the information being reported is incorrect and they respectfully ask for privacy."
Meanwhile, celebrities sent tweets filled with of love, admiration, and hope for the singer. Everyone from Ellen Degeneres to Missy Elliot had a kind word to say.
The singer has always been open and honest about her struggles with addiction. In June, Lovato released the single "Sober" and revealed that she had relapsed after six years of sobriety.
"Momma, I'm so sorry I'm not sober anymore/And daddy please forgive me for the drinks spilled on the floor," Lovato sings. "…To the ones who never left me/We've been down the road before/ I'm so sorry/I'm not sober anymore."
It's an incredibly brave move on Lovato's part to make her private battles public. She told Good Morning America that she does it so people feel less alone in their own struggles.
"I think that it's important that I use my voice for more than just singing and I just know how important it is to use my platform to help others and to share my story in hopes it inspires people to either get into recovery or better themselves," she said. "…I think that mental health affects so many people and we need to take the stigma away from it."
Clearly, her openness has touched many, many people. "Riverdale" star Lili Reinhart tweeted that the singer meant the world to her growing up.
"Praying for @ddlovato and her health," she wrote. "When I was 14, she was an idol to me in how she spoke so openly about mental health. And now she continues to inspire thousands of young men and women with her body positivity messages. Addiction and mental illness doesn't discriminate."