Celebrities And Malibu Residents Forced To Evacuate Homes Due To California Wildfire
by Cassandra Stone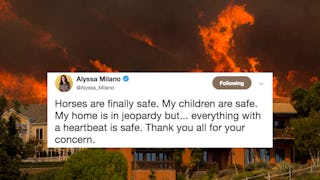 Image via David McNew/Getty Images
Celebrities and Malibu responders are sharing the terrifying reality of the wildfire
A fast-moving wildfire in Southern California has impacted the entire community of Malibu, forcing many people from their homes due to mandatory evacuation notices. Several celebrities have had to flee their homes as well, and some have already shared their homes have been destroyed in the flames.
The Woolsey Fire started Thursday night and by Friday had spread to Malibu and the Pacific Ocean, prompting evacuations in Malibu, Calabasas, Agoura Hills, and other Southern California areas. The images from the fire are absolutely terrifying and devastating.
Having to leave your entire home and everything in it while your neighborhood is literally engulfed in flames is unfathomable.
Celebrities like Alyssa Milano, Rainn Wilson, Kim Kardashian, Guillermo del Toro and more have been forced to leave their homes — many still don't know the fate of their homes after evacuating.
Many of them have been sharing updates and information in real time, as they face the frightening reality of this powerful wildfire.
Rainn Wilson from The Office encouraged his followers to think of those who were affected by the recent Thousand Oaks mass shooting earlier this week, who are also now dealing with the effects of the wildfire.
Several celebrities offered their thanks to first responders and firefighters.
Lady Gaga recorded her own evacuation on her Instagram story.
Orlando Bloom shared a sobering image from his own neighborhood after he evacuated.
The Woolsey Fire has already blown through 35,000 acres of land and 6,700 structures. It's been estimated that 250,000 residents have been evacuated from their homes. Local authorities expect the number to grow regardless of whether the flames become contained. Tragically, nine people have died as a result of the fire.
While Malibu is full of famous people, one Twitter user is making sure people know the rich and famous aren't the only ones being deeply affected by this horrific disaster. In fact, residents who don't live along the water are more vulnerable to the flames.
Acting California Governor Gavin Newsom has declared a state of emergency in Los Angeles and Ventura counties. The LA City Emergency Management Department is sharing tips for evacuation and steps to follow for those who may be in danger, specifically the "6 P's Of Evacuation."
Donations are being accepted at the Ventura County Community Foundation, the Humane Society of Ventura County, and the United Way's local disaster relief fund.