Here's How Your Fave Celebs Decorated For Christmas This Year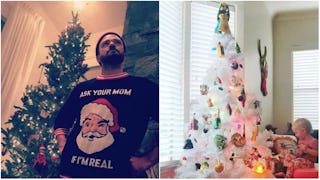 Images via Instagram
Because internet creeping to see how the rich and famous do Christmas is a holiday tradition in its own right
All the gifts have been unwrapped and we're coming down from the Christmas cookie sugar rush. Although we're all totally pumped to see that Elf go back into the attic until next December, it can be a little bit of a bummer that after weeks of planning, shopping and wrapping, the holiday's just, boom — over. Lucky for us, there's still one more Christmas activity we can all enjoy before we wrestle on those zip up pants and head back to work — peeping on celebrity social media accounts to see how the stars decked their halls for Christmas.
If you're sitting there saying you get no pleasure from checking in on famous people to see how their lives stack up compared to your own, either you have a pure, zen soul or you're straight up lying. And remember, Santa starts his naughty list for next year now, so you may as well settle in with some leftover pie and admit that scoping out celebs is choice holiday entertainment.
Sarah Michelle Gellar will always be Buffy the Bad Ass Vampire Slayer. But flip through her her tree swag pics and you can see she totally got suckered into buying one of those overpriced L.O.L. balls for her kid like the rest of us.
When you're as famous as Britney Spears you don't go to Rockerfeller Center to see a giant tree, you just set one up in your own living room. Not impressed? Check out that recliner for scale. It looks like wee doll furniture next to that gigantic evergreen. You could house a whole family of nymphs in those branches. Maybe that's where her backup dancers live.
Mariah Carey's tree is surprisingly relatable — it's pretty but also clear that she trimmed it herself with the help of her twins. Of course, she points out this is only the family's NYC tree, so no doubt the diva's got a tree decked out with feathers and crystals somewhere else.
Here's Paris Hilton's tree, in all its kidfree, I-don't-have-to-worry-about-the-toddler-chewing-on-a-glass-ornament-and-sending-us-to-the-emergency-room-on-Christmas-Eve glory.
Reese Witherspoon's tree and offspring look like they're straight out of a Potty Barn catalog and we're jelly of all of it.
Maybe they just hadn't gotten to hanging the ornaments yet, but I'd totally believe that Pink's the kind of chill mom who'd decide toddler plus ornaments equals too much hassle, and determine lights alone were good enough this year.
Channing Tatum and Jenna Dewan Tatum are one of those cheesy couples who get their kids personalized Christmas jammies and have Disney decorations on the tree, so you can tell your husband that you're officially cool now.
Justin Timberlake sleighed (see what I did there?) his dad on Christmas Eve duties. Epic tree? Check. Elf on the Shelf moved? Check. Ugly Christmas sweater that he still looks good in? Check.
Oprah's tree is towering and tasteful and it makes us want to strip ours down and start all over, the date be damned.
Tess Holliday went with an all white Christmas tree this year, which looks flawless, just like her.
https://www.instagram.com/p/BdGtZndBw4w/?hl=en&taken-by=tessholliday
You thought your Christmas card pics were extra? Gwen Stefani's giant backdrop has us all beat.
Miley Cyrus couldn't resist the "Tree is Lit" joke.
https://www.instagram.com/p/BctH16uB0EP/?hl=en&taken-by=mileycyrus
Most dogs see a tree skirt as a convenient pee pad. Missy Elliott's dog knows better.
Jesse Tyler Ferguson's tree is so gorgeous it belongs in a display window somewhere. It's the kind of tree we can only dream of until the kids go off to college or fully understand the words, "Don't touch."