Behold, The Best Celeb Halloween Costumes This Year — Debate Fly And All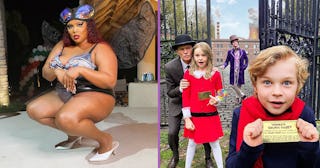 Lizzo/Instagram, NPH/Instagram
Per usual, Neil Patrick Harris and family nailed it this year with their Charlie and the Chocolate Factory costumes
Even a pandemic can't keep Hollywood from busting out some seriously amazing Halloween costumes, and a few got the entire family involved.
Halloween this year, as with most things, is going to feel different. The CDC issued guidelines on trick-or-treating to ensure everyone's safety, and with coronavirus cases spiking in most states, caution is definitely the name of the game. That doesn't mean costumes are off the table, though; and as usual, Neil Patrick Harris and family win Halloween.
Harris shared the much-anticipated family photo on Instagram of himself, husband David Burtka, and their two kids as Charlie and the Chocolate Factory.
"ompa, loompa, doompety doo! We've got a family photo for you! This year, may you invent an October 31st that is spirited, safe and scrumptious," the actor wrote. "Invention, my dear friends, is 93% perspiration, 6% electricity, 4% evaporation, and 2% butterscotch ripple. Happy Halloween from the Burtka-Harris Crew!" Nailed it.
Of course, you can't have Halloween without representing one of the finer moments of this election year: the debate fly. Lizzo's got this one covered with her "FLYYYYY AF" costume.
Chrissy Teigen, who recently broke her silence from a devastating pregnancy loss, has rejoined social media, and we are so thankful for it. The mom-of-two looked stunning as the White Swan for a "household Halloween."
She also shared one with son, Miles, who is definitely enjoying the sweeter benefits of the holiday.
Husband John Legend channeled his inner superhero by donning a Spiderman costume.
And Amy Schumer shared a sweet pic of son, Gene, dressed to impress his dad, professional chef Chris Fischer. She also managed to get one last plea to vote.
"If you have a baby and you don't dress them up in a bunch of insane ways I don't understand what you're even doing. Vote in person or drop off your ballot. It's too late to mail in anywhere in the US," she wrote. Can we please take a moment to admire those cheeks?
https://www.instagram.com/p/CHAexUVJyAJ/
Gabrielle Union and Dwyane Wade's daughter, Kaavia, went as a USPS mail-person, walking confidently towards the camera. "Signed, Sealed, Delivered," Union wrote along with the hashtag #SaveUSPS.
Of course, it wouldn't be Halloween without the Kardashians, and this year, Kim and best friend Jonathan Cheban went as the Tiger King crew. "Carole Baskin, Joe Exotic and our tigers," Kardashian wrote next to the adorable pic.
Finally, Jennifer Garner decided to share a throwback of herself with her signature dimples on display as a clown circa 1980-something. Sometimes, it's the nostalgia that wins the game.
Here's hoping everyone has a happy and safe Halloween this year.