This Celine Dion 'Remix' Tweet Thread Is Pure Gold
by Joanna McClanahan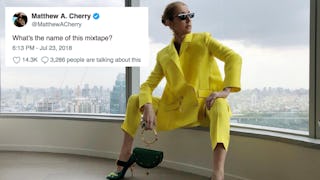 Instagram / @celinedion
Earlier this week in an Instagram post, Celine Dion posted a picture of herself gazing out the window, looking like an absolute boss. Whether it's her pose, her expression, the yellow suit, sunglasses, or those shoes—Celine is out there looking like every woman in 2018; it's pretty clear that she's not here for your shit.
Sporting her new look, filmmaker Matthew Cherry couldn't help but wonder if Celine is getting ready to drop an entirely different kind of album:
The hilarious people of the internet did not disappoint. From plays on her songs to her being Canadian, Twitter had jokes.
And the heart is fucking over it:
10/10 would buy:
Or this:
Not "All By Myself," but:
Or even:
Tupac: "All Eyez On Me."
Celine:
2018 Celine is a hustler:
Who needs Beauty and the Beast when you can have:
Then there's this Canadian nerd battle:
A New Day Has Come, but also:
Then there's this play on Drake's album "Views":
And my personal favorite, who needs Big Dick Energy when you can have:
Whatever album she drops next, based on this badassery, it's bound to be fire. So all hail the Queen of Quebec, we obviously don't deserve her.
This article was originally published on