These Christmas Trees From Your Childhood Are Making A Big Comeback
by Cassandra Stone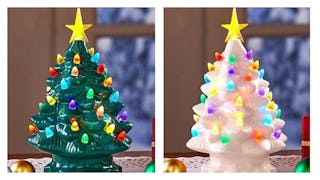 Image via Walmart.com
It's not really Christmas until you have one of these trees
There are so many things about the holiday season that overwhelm our nostalgia-loving hearts, and one of them is the classic, ceramic Christmas tree. Moms and grandmas everywhere seem to have these antiques in abundance.
And now we can have one of our very own, too.
The sweet, soft glow of one of these trees sends you right back to your childhood — in the best way. And while many of these are auctioned off on sites like eBay for $100 or more, you can own one for less than half that price.
This 13-inch tree will take you right back to Grandma's house, when you'd get in trouble for touching her precious tree and could only admire it from afar.
This white version is ready for you to paint yourself, so the color of choice is finally yours — because you're a grown-up and you do what you want.
You don't have to paint this white one yourself — it's already done and glazed and absolutely ready to glow up your living room as-is.
Pink may be all the rage right now, but that's because everything old is new again. This pink beauty would have fit right in those '60s and '70s homes, too. It's perfect for a kid's bedroom, too.
This tree might be the best of both worlds: it's still got that retro feel, but it's made of rose gold, which is all the rage right now. It's also the perfect size for your desk at work, a bedroom, or a bookshelf — and honestly, it really says "we fancy."
Now you don't have to wait for your family's ceramic tree to be "passed down" onto you — heck, you can buy three of your own for the price of one antique! And now it gives your children something to fight over someday — because we're always looking for that perfect piece of nostalgia around the holidays. And this is it.
We may earn commission from any purchases made.
This article was originally published on