Some Instant Pots Are Melting And People Are Freaking Out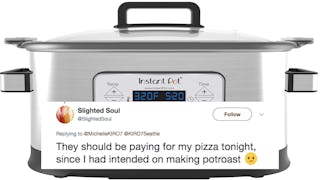 Image via InstantPot.Com/Twitter
One model of the consumer favorite Instant Pot has been overheating
If you own an Instant Pot, you know all about it's glory. It's a pressure cooker, sautee-r, slow cooker, rice cooker, steamer, yogurt maker, and food warmer in pristine stainless steel . Sure, there are a lot of buttons but it can deliver a perfect poached egg in one minute. It's a damn miracle.
Unfortunately, there may be a problem with one of its models which is causing it to overheat. And causing Instant Pot owners to scream "nooooooooooo" into the void that will soon be their kitchen if these things go tits up.
The company (which has a huge cult-like following) announced last week that they have received reports of some "Gem 65 8-in-1 Multicookers" overheating on their Facebook page. As of now, the problem only affects five batchcodes – 1728, 1730, 1731, 1734 and 1746 and the overheating may result in "localized melting damage to the underside of the product.
To check your product's batchcode, locate the silver label on the bottom of the cooker. The batchcode is the four digit number on the bottom right of the label.
As of now, no recall has been issued but the company is instructing customers to "immediately stop use of the product."
"We want you to know that we take any problem with our products extremely seriously as safety and quality are our primary concern," they said in their post.
https://twitter.com/jetpack/status/967064474820710405
Listen, we've had about all we can take with bad news surrounding slow cookers and pressure cookers. (RIP, Jack Pearson. We will never forget you.) so please, please let's hope this Instant Pot matter will be fixed.
You can cook a five pound chicken in 32 minutes — which is 17 minutes longer than most parents have between homework, activities, baths, and butt wiping. Do not take this away from us. We are a pubic hair away from a total meltdown most days when it comes to family dinner. We don't have time for this shit.
An Instant Pot representative has confirmed they will give impacted customers a free replacement Insta Pot ad said, "they are working cooperatively with the US Consumer Product Safety Commission (CPSC)," to determine the issue.
Hopefully, this will be but a small bump in the road for Instant Pot fans. We forgot to thaw out our ground beef and we promised the kids tacos. In the next five minutes.
This article was originally published on