8-Year-Old Girl Shot In Synagogue Attack Says 'He Was Aiming At The Kids'
by Julie Scagell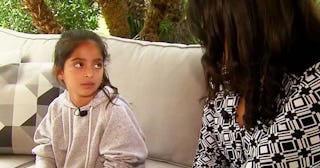 CNN
The little girl is alive but healing from wounds to her leg and face
Noya Dahan was one of the youngest members of the Chabad of Poway temple shooting to be injured when a gunman entered during Passover services. Though she survived, the eight-year-old says she will never feel safe again.
Dahan was at the service with her uncle, Almog Peretz, and was playing with other kids inside the synagogue in Poway, California, when she saw a gunman open fire on worshippers. "I don't even have any words for it. It was terrifying. Scary." she told CNN. "We go to pray and then we're supposed to, like, supposed to feel safe."
"My uncle, he was holding my hand," she continued. "And the person that was shooting was aiming at him." She said the gunman fired at her uncle and the shrapnel from that bullet went into her leg and came out the other side and also hit her face. "It felt like a had the giantest bruise ever," she said, describing the pain. "He was aiming right at us. He was aiming at the kids."
Dahan is no stranger to violence. She and her family have moved twice, once fleeing violence in Sderot, Israel where their home was hit twice by rockets. Dahan's mom fled to the United States and moved to California, where the family home was targeted in 2015 with cut power and swastikas drawn on their garage and car. "We were sleeping in a locked bedroom with knives and with baseball pole because that is the only way I can protect my family," Noya's father, Israel Dahan said.
They moved to Poway and were once again targeted for their religion. Thanks to the quick actions of her uncle, she and others survived. "He was shooting at me from across the room. I saw him staring at me," Peretz said. After being shot in the leg, he ran to an emergency exit door and told all the children nearby to follow him, running out and over to the rabbi's home next door to safety.
"They left because of the Qassam rockets, and suddenly terror comes to them also in San Diego, which is unbelievable," Peretz' father told CNN. "I didn't believe something like this could happen."
Though they are relieved to be alive, the Dahan family is mourning the loss of their family friend who died in Saturday's attack, Lori Kaye, who was at the temple that morning to honor her late mother.
Other heroes stepped in to make sure the gunman didn't take any other lives. Army vet Oscar Stewart ran towards the gunfire when the attack began. "As he was discharging the rounds, I ran up to him and I yelled at him, and he dropped his weapon and he ran out. And I chased him out of the sanctuary," he said.
For Dahan, this hate-filled attack will likely stay with her forever, which is impossible to fathom at such a young age. "I'm feeling scared and unsafe, like someone always behind us and watching us," she said.