Horrifying Video Shows Woman Tossing Chair Off 30th Floor Balcony Onto Busy Sidewalk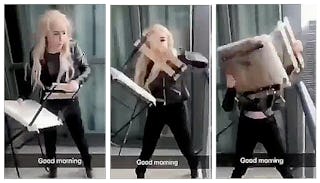 Image via Twitter/blogTO
Toronto Police have charged the woman with endangering people's lives
In what looks like some kind of sick social media stunt, a woman threw a folding chair off a high-rise apartment balcony in Toronto, watching it crash down toward a busy sidewalk and a highly trafficked highway below. She's now been charged with a number of crimes and frankly, she's lucky she didn't kill anyone.
The woman in question has now been identified by police to be 19-year-old Marcella Zoia, who lives in Toronto. Her face is clearly shown in the video of the incident, which looks like it was posted to Snapchat. A banner across the bottom of the video reads "Good morning." In the clip, the woman picks up the chair and heaves it over the balcony railing. The camera follows it as it spirals down its dizzying path of dozens of floors toward a busy highway below.
Seriously, what the hell?
Photos of the aftermath show where the chair landed, which was right next to a bike rack on a sidewalk that people clearly use. Constable David Hopkinson tells CP24 that when found on the sidewalk, the chair was "almost beyond recognition."
"We are talking 30 floors up, a metal chair, in front of a condo building where anybody could be walking under it," Hopkinson says.
This is downtown Toronto. It's a busy place. If someone had been standing or walking in that spot at the time that woman threw the chair, they would probably be dead right now. At the very least, they would be gravely injured. If it got into the road, it could've caused any number of unspeakable tragedies.
Julia Mazurick, a woman who lives in the building the chair was thrown out of, told CityNews she walked by its mangled remains on the sidewalk and thought the wind must have blown it off someone's balcony. Then she saw the video and was enraged.
"It could have killed me. I walk in and out of this door multiple times a day. My husband walks out of here," she said. "There's people with babies, with pets, dog walkers, everything. I don't think there's anything funny — I don't know what kind of state of mind you would have to be in actually to think that would be funny."
Can you imagine if that chair had hit a woman pushing a stroller? A small child? What if it had landed on the highway and caused a pile-up? It is honestly a miracle that nothing terrible came of this.
"How can you do something like that, that appears so callous? We're looking at video of something that could absolutely cause somebody's death," a Toronto police officer added to CityNews. "Is she trying to harm somebody? Is her intent to throw the chairs on somebody specific? If that's the case, we're talking very, very serious either weapons or assault charges. Highest level you can think of."
Police say the chair was thrown at 10 a.m. Saturday, and on Sunday, they announced in a press release that they were searching for the woman. On Wednesday, Zoia turned herself in to police. She's now been charged with Mischief Endangering a Life, Mischief with Property Damage and Common Nuisance. If you ask us, she got off lucky because no one was hurt by her remarkable stupidity and complete disregard for her fellow humans.
This article was originally published on