This 12-Year-Old Transgender Boy Died By Suicide. Use The Right Pronouns When Talking About HIS Death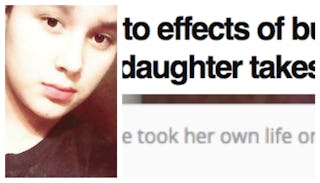 City Pages/ WDAY6/
The least we can do is use the right pronouns when describing this 12-year-old transgender boy
A 12-year-old transgender boy died by suicide last week, a result of what his family is calling "relentless bullying." Chance Houle, born "Cherish," died by suicide last Saturday, March 31. The North Dakota family wrote what has been described as a "shockingly frank" obituary about his death, and many news outlets are sharing it.
"The family did not spare readers of the details of Houle's story, and hopes sharing the 'ugly truth' of what happened to Houle might 'prevent tragedies such as this from happening again,'" writes City Pages. Chance's cousin told The DailyMail that the 12-year-old had only come out as transgender this year, and that it had "contributed to the bullying."
The obituary written by the family describes Chance as she/her throughout:
"Cherish experienced intense pain most people her age will never know. Throughout the last 6 months of her life, she experienced continual transition and intense bullying at school. While the news is currently highlighting violence as the result of bullying. Cherish's support systems saw a very different result," the obituary says. "Those who loved Cherish didn't know how unbearable that pain she was experiencing had become for her. The support and love she was able to receive from those around her wasn't enough to heal the scars of the relentless bullying she had already suffered. Cherish didn't harm others or turn to drugs and alcohol to deal with her pain, she took her life on March 31st, 2018."
A commenter on the City Pages post about the obituary claims, "I attended the funeral today, and a speaker said they would use she/her pronouns and the name Cherish out of respect for the family." What about respect for the dead?
The obituary continues, "We are asking you to teach your children that our words are our most powerful resource and we need to be careful to use that precious resource to positively affect people. Teach your children what to do if someone they know is talking about suicide. Teach them who to call for help. To those of you who were kind to Cherish, thank you. Your love and acceptance meant the world to her. To Cherish, thank you for coming into all our lives. We are all much better for it. Fly high and carry our love forever. You will be greatly missed."
This boy deserves to be called by his chosen name. His wishes about his identity deserve to be honored. The fact that several news outlets, including the Daily News and a handful of local stations, refuse to call this boy by his chosen pronouns and his actual gender identity is not okay.
"The family said Cherish 'Chance' Houle of Bismarck took her own life last Saturday, March 31," local news WDAY6 reports. "Family members said the seventh-grader had a tough life, was in a difficult family situation and living in a foster home, but perhaps bullying at school may have contributed to the tragedy."
"According to a recent national study, a heartbreaking 40% of transgender adults said they had tried to commit suicide," reports Mount Sinai Mental Health Center. "92% of these individuals had tried before they turned 25. For comparison, only 8% of high school students have attempted suicide."
"Young people increasingly understand that gender exists on a continuum. We need to keep educating others about what it means to be TGNC and the effects that the gender binary has on our society," MSMHC maintains. "Over time, education can reduce the stigma and isolation of TGNC communities as families, medical providers, educators, and community leaders stop rejecting TGNC youth and begin to fully embrace them."
Chance Houle was the name this boy chose. The least, and I mean the very least we can do as writers reporting news — is honor that in his death.
The first transgender suicide hotline is now up and running in the U.S. You can reach Trans Lifeline at 877-565-8860. Trans Lifeline is a 501(c)3 non-profit dedicated to the well being of transgender people. They run a hotline staffed by transgender people for transgender people.
This article was originally published on