Chance The Rapper Delays Tour After Birth Of New Baby: 'I Hope You'll Understand'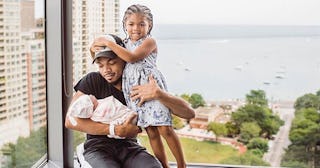 Chance The Rapper/Instagram
Chance the Rapper says he wants to be "as helpful and available as possible" to his wife during the early months of his new baby's life
We hear a bit more about dads taking paternity leave these days, but a rapper canceling his tour to stay home with his new baby and help out his wife is a pretty big move (in the right direction) on the paternity leave issue. That's just what Chance the Rapper did, stepping up for his wife in a major way when it comes to newborn care.
He announced on social media that he was actually postponing his tour in order to be home with his wife, Kirsten Bennett, and brand new baby, Marli. The couple also has an older daughter, Kensli.
https://www.instagram.com/p/B2M7VQhgYyP/?utm_source=ig_embed
"I thought it over for the past week and I've decided to push back my tour," he wrote on Instagram on Monday alongside an adorable picture of him with his two daughters. "This year has been one of the greatest of my life; Marriage, new baby, first album etc. But with it being so eventful it has also been very strenuous having to divide my time and energy between family and work."
It's a totally refreshing take to hear about the elusive struggle for balance that comes after having a baby from a man. We hear moms talk about their work/life balance all the time. It's high time we hear more from dads who want to be as present as possible, step in, and do the dirty work when their babies arrive, too. But still, cancelling his tour is pretty huge because it's not like anyone can step in and replace him.
But truthfully? It'd be great if more dads took a page out of Chance The Rapper's book. Because moms shouldn't have to do it all, regardless of who they are married to. They deserve to have their partners as present as possible and it seems like this dad has learned that.
Chance understands that cancelling the tour is a big decision but says he felt like he had good reason. "When Kensli was born I went on tour 2 weeks later and missed some of the most important milestones in her life," his post went on. "But more importantly, I was absent when her mother needed me most."
Aaahh. There it is. He really hit the nail on the head with that part because as every postpartum mom knows, in those early days, you need all the help you can get. It can also feel isolating when your partner goes to work all day (or, when it comes to being married to a rapper, for weeks or months at a time) in the throes of the newborn days.
https://www.instagram.com/p/B2E9j2ip3WK/?utm_source=ig_embed
The rapper knows he's disappointing fans, and he apologized in his post saying, "I hope you'll understand." But he also knows that those newborn moments are fleeting and he isn't going to miss them this time. "Chances" are, his wife appreciates it his efforts. Because while tours will come again, the newborn days fly right on by.
This article was originally published on