Woman Assaulted By Brock Turner Reveals Herself As Chanel Miller In New Memoir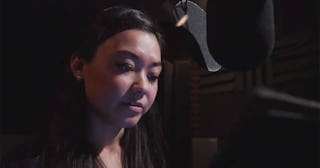 CBS
Her impact statement was heard far and wide and now she wants everyone to know her name — Chanel Miller
Chanel Miller is a name you likely haven't heard before. That's because it's the name of the woman who was assaulted by Brock Turner behind a dumpster in 2015 and who has been only known to the public as "Emily Doe." But in her forthcoming memoir, fittingly titled, Know My Name, she's finally revealed it.
"Emily Doe" became known as the sexual assault survivor who penned a powerful impact statement which she bravely read to her assailant during the trail. It was then published online and read by millions. It's also been credited with helping kick off the #MeToo movement, which allowed millions of women to share their own personal stories of abuse.
Miller will appear on 60 Minutes on Sunday, September 22nd where she will get to tell her story in an interview with Bill Whitaker. In a clip from the upcoming segment, she reads from the impact statement, revealing how she had to fight hard to earn back the identity that Turner took away from her.
"You don't know me, but you've been inside me," Miller reads in a jarring, emotional statement. "In newspapers, my name was 'unconscious, intoxicated woman.' Ten syllables, and nothing more than that. I had to force myself to relearn my real name, my identity. To relearn that this is not all that I am. That I am not just a drunk victim at a frat party found behind a dumpster, while you are the All-American swimmer at a top university, innocent until proven guilty with so much at stake."
Turner, who was known as an elite Stanford swimmer, was discovered on top of Miller behind a dumpster by two graduate students from Sweden who chased him down and held him until police arrived on the scene. Turner said in court that the encounter with Miller was consensual.
The prosecutor in the case, Alaleh Kianerci, urged the judge to see through his good boy image. She said he knew the victim was drunk and he took advantage of her. "He may not look like a rapist," she said in her closing argument, "but he is the face of campus sexual assault." Turner was found guilty of three felonies and was forced to register as a sex offender for life.
While prosecutors asked that Turner be sentenced to six years in prison, he was only sentenced to six months and was out of jail in only three. The judge in the trial was recalled for the lenient sentence he gave Turner.
Chanel's book, titled Know My Name, is scheduled for release on Sept. 24th.