We're Finally Seeing More People With Disabilities Represented In Fashion, Thanks To This Mom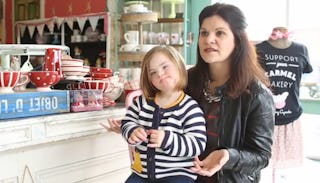 This mom's nonprofit is creating more media representation of people with disabilities.
We all wish we could make the world a better, more accepting place for our kids, but one brilliant mom is actually doing it. Katie Driscoll is a writer, photographer, and the founder of Changing The Face Of Beauty, a nonprofit that works to empower people with disabilities by advocating for their representation in advertising and media. The organization was created in 2012 and was inspired by Driscoll's own young daughter, Grace, who was born with Down syndrome.
According to their website, Driscoll and her team work to create partnerships with private and commercial retailers to increase the visibility of people living with disabilities through marketing materials and educational programs. In the three years since Changing The Face Of Beauty started, they've gotten over 100 companies to include models with disabilities in their advertising, including Tori Spelling's clothing line, Little Maven. They also helped put Jamie Brewer, the first model with Down syndrome, on the runway at New York Fashion Week.
Of course, the goals of the organization are about more than just advertisements and beautiful photographs. In a recent feature on the Huffington Post, Driscoll talked about the way inclusion helps erase stigma and breakdown barriers for people with disabilities. "I want to show people that we really are more alike than different," she says. "I believe that when more people are exposed and have the opportunity to see differences, the more accepting they'll just naturally be."
A huge part of that is increasing the presence of people with disabilities in the workforce and giving them more opportunities for success in whatever career they'd like to pursue. According to the Huffington Post, only 44 percent of adults with intellectual disabilities are currently in the U.S. workforce. Says Driscoll, "We firmly believe that the more people with disabilities are seen, the more opportunity there will be for employment. With employment comes independence and, you know, really participating in society like everyone else."
According to stats from the President's Committee for People with Intellectual Disabilities, there are between seven and eight million people of all ages — a full three percent of the population — living with intellectual disabilities in the U.S., yet it's unfortunately still so rare to see them represented in the media in a positive way. They deserve to be celebrated and to have their beauty and accomplishments recognized, just like everyone else.
Organizations like Changing The Face Of Beauty do so much good, not only in creating opportunities for people with disabilities, but in challenging the status quo and helping to shift the media landscape towards being more diverse and more inclusive of all people. Every person is beautiful, and the work this organization does is moving towards a world where we finally recognize that.