Instagram Shots Of Channing Tatum's Birthday Are Almost Too Cute For Words
by Maria Guido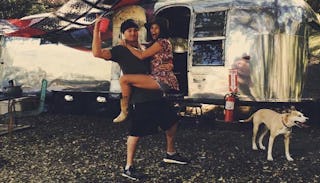 Channing Tatum celebrates his 36th birthday
Channing Tatum is the most adorable thing, ever — this is not up for debate. But after Tatum and his wife Jenna Dewan Tatum's performance on Celebrity Lip Sync Battle a few months ago, most of us added another crush — a giant girl crush on her, too.
This couple is one of the cutest, most likable couples out there. Tatum celebrated his 36th birthday this week, and to celebrate, the Tatum family hung out in the woods — being adorable.
Exhibit A: vintage camper
Vintage camper? Check. Adorable dog, Lulu? Check. Channing Tatum? Check. Profound quote? Check. Jenna quoted Lao Tzu, "To love someone deeply gives you strength. Being loved by someone deeply gives you courage." And she calls Tatum her "lifer." Aww.
Exhibit B: Gift horse. Literally.
"Best birthday gift ever from wifey." Seriously, stop.
Exhibit C: "Braveheart" face paint, courtesy of his toddler, Everly
Jenna presented the birthday boy with a new rescue horse named "Cajun" and you can see him riding it in the video above, just saying "best day, ever."