Channing Tatum Crashes Little Girl's Birthday, Moms Approve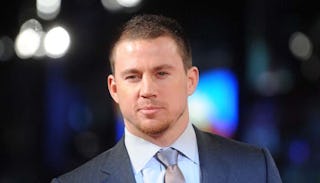 LONDON, UNITED KINGDOM - MARCH 18: Channing Tatum attends the UK Premiere of G.I. Joe: Retaliation at Empire Leicester Square on March 18, 2013 in London, England. (Photo by Stuart Wilson/Getty Images)
Last week, Channing Tatum and his adorable daughter Everly decided to spend the day at The COOP – a play space for kids. Think Chuck E. Cheese, but classy. Seriously, Chuck E. Cheese is Atlantic City and The Coop is Vegas – that's the best way to describe this place. It's like Chuck E. Cheese went on Property Brothers and got a makeover. Okay, enough about The Coop – back to Channing Tatum and his daughter.
The Coop was closed for a private party that day, probably by some wealthy Los Angeles suburbanite who appreciates style and minimalism in their child's play space. Tatum and his daughter rolled up, not realizing it was closed. Instead of calling security (which I'm sure this totally sophisticated play space has), mom was like, "Please stay, Channing. Please. Please stay. Please. Can you take off your shirt?" Okay, I'm ad-libbing.
What really happened, as Us Weekly reports, is this:"They didn't realize it was closed for an event," an insider reveals in the new issue of Us Weekly. "When the birthday girl's mom saw them, she asked them to stay!" So it's sort of the way I described it, but with more clothes.
Poor kid with a birthday. She probably thought she was going to be the star of the show, then Channing Tatum's abs arrived. Forget I said that. This is a sweet story about a father, his daughter, and a birthday party. That's it. It has nothing to do with abs or amazing eyes. Or an adorable grin or dancing ability. It has nothing to do with any of that.
Wait, what was I talking about?
Oh yeah, birthday party. Tatum bought the birthday girl a present from the gift shop on the way out, "a ring and flamingo sunglasses," said a source.
Some moms have all the luck.
This article was originally published on