Channing Tatum Posts Adorable Video Of His Daughter Kicking His Butt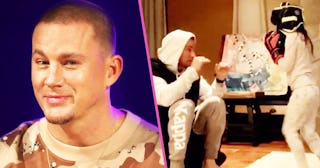 Kelly Defina/Getty and Channing Tatum/Instagram
Channing Tatum's daughter proves she's got a mean left hook in new video
Everly Tatum can kick ass. Literally, according to a new video her dad, Channing, posted on Instagram. And the ass she's kicking? Her dad's! The proud pops shared a video of his little girl sparring, bobbing, and weaving like a professional boxer — she's that good. And she's only six.
Dressed in full boxing gear and pajamas, the two turned his living room into an arena for a a full-on boxing match. "She loves punching dad," he captioned the video. "This is only 1/16 how long this went for hahaha she an animal. We love wrestling and boxing. And we keep it fun."
He explains that he thinks of the father-daughter sparring as good quality time between them, but that it also serves a greater purpose.
"I heard once that martial arts was only created to take the mystery out of fight," he writes. "So people started to practiced it. So if ever there came a time they had to defend themselves they wouldn't be as afraid. In my experience fear most times leads to bad decisions. Being calm and secure with your mind and body…Make great opportunity for good decisions."
Not only is he using it as a tool to teach his daughter confidence and calmness as a defense mechanism, he says he hopes it leads to her feeling safe as a female in the world. "Violence is 100% never the answer. But having a daughter i always want her to feel safe in her being. And god help the person that ever poke the beast inside this little angel."
Recently Channing took Everly to see Frozen: The Musical, and was absolutely adorable in how much he gushed about how good it was.
"Ok Frozen the musical = seriously magical." A dad who loves musicals? We have no choice but to stan. Forever.
Channing and his ex-wife, Jenna Dewan, seem to have an amicable co-parenting process. Photos and videos of Everly aren't shared very often, and according to E!, both parents have to give the "ok" before posting about her publicly. Which, honestly, is both smart (for Everly's sake) and respectful.
That being said, raise your hand if you could watch little Everly kick her dad's behind all day, every day.