Channing Tatum Writes Empowering Letter To His 3-Year-Old Daughter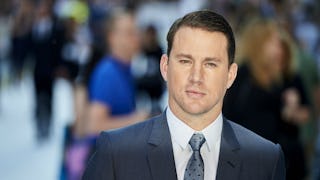 Image via Getty Images/AFP/ Niklas Hallen
"My highest hope for her is just that she has the fearlessness to always be her authentic self"
Channing Tatum's daughter Everly is only three years old, but her father has already put a lot of thought into what type of woman he hopes she grows up to be.
The actor was invited to write an editorial for the June 2017 edition of Cosmopolitan in honor of the Magic Mike Live show opening in Vegas. Tatum's always gushing about how much he loves and admires his wife, Jenna Dewan-Tatum, on Instagram but he took this opportunity to talk to the other woman in his life — his daughter.
https://www.instagram.com/p/BA_ih4ngCJz/?taken-by=channingtatum
"I tried to imagine the things I'd want her to read that would help her understand men and sex and partnership better, and at that moment, I realized a strange thing," he writes. "I don't want her looking to the outside world for answers. My highest hope for her is just that she has the fearlessness to always be her authentic self, no matter what she thinks men want her to be."
Unlike some dads, his biggest fear isn't what other people will think of his daughter but rather what she thinks of herself when she grows up. "We live in a society that has trained men and women to play certain kinds of roles for a long time, and the beauty of this amazing moment we're living in is that we're finally starting to break free from those roles," he says. "Women, especially, are realizing that they no longer have to conform to certain standards of social and sexual behavior, and this changes what they need from men and the role of men in general."
He credits his wife with helping him realize the fierce power of a woman who's confident in what she wants out of life. He explains how she took control of their relationship early on, telling him flat out that he was what she was looking for without waiting for him to initiate one of those "where is this relationship headed" conversations. Tatum says the bold move left him in awe. "I remember feeling this incredible rush — it was the sexiest thing she'd ever done for me," he recalls.
https://www.instagram.com/p/BNkvuvchyG7/?taken-by=channingtatum
That radical authenticity of hers was what made me fall head over heels in love. "Before I experienced it, I wouldn't have known how to ask for it. Now I know it's what I was always craving," he explains. His dream is for his daughter to have the same understanding of her own value when she's an adult. "And that's what I want for my daughter," he says, "to be expectation-less with her love and not allow preconceived standards to affect her, to ask herself what she wants and feel empowered enough to act on it."
https://www.instagram.com/p/BFKOY4ogCFq/
His goals for his daughter Everly are a great guide for every female, even those of us who are adults now. It's never too early or too late to realize how incredible we are. We don't need to alter who ourselves — physically or mentally — in an attempt to find happiness. We deserve to be loved for exactly who we are.
Tatum says he hopes all women, not just his daughter, find the strength to be true to exactly who they are. "I guess if there's one thing that I think men wish women knew, it's just that they alone are enough. When more women start to truly feel this power in themselves, the world will become so magical, it makes my head hurt.