Channing Tatum Just Made His New Relationship Instagram Official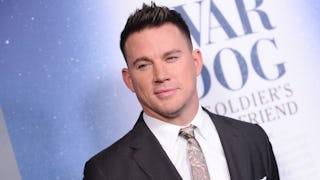 IMAGE VIA JASON LAVERIS/GETTY IMAGES
Channing Tatum and Jessie J are officially official
Sorry everyone with a pulse, Channing Tatum is off the market — not that he was available for very long, anyway. And he's made his first relationship post-divorce Instagram official, as you do. Because if it's not on social media, it doesn't count (we're all guilty of this, don't lie).
Earlier this year, we all did a big sad when Tatum and his wife, Jenna Dewan-Tatum, announced they were filing for divorce after nearly nine years of marriage and even more years together as a couple.
But now both Tatum and Dewan (minus the hyphen, thankyouverymuch) have found love with other people. Though the Magic Mike star's new girlfriend has a lot of tongues wagging — because she bears an uncanny resemblance to her boyfriend's ex-wife.
Jessie J, who by all accounts is a remarkably talented performer and has had an established, successful career since we were all blown away by her one-legged performance at the MTV VMAs back in 2011, does look an awful lot like Jenna Dewan. It cannot be denied.
And she's now Instagram official with her new man.
"This woman just poured her heart out on stage at the Royal Albert Hall," Tatum captions his photo of the concert. "Whoever was there got to witness something special. Wow."
Let it be known Channing Tatum definitely has a type. And that's fine! Who doesn't? It's just…noticeable, is all.
https://www.instagram.com/p/Bn9Vobagn9d/
Ahem. Just gonna set this right here and go grab a hot cup of tea.
According to PEOPLE, Tatum has been spotted at several of Jessie's shows since they started dating, including one show with his daughter with Dewan, Everly.
And Jenna Dewan isn't exactly sitting at home knitting, either. She's got a new boyfriend and is happily co-parenting with her ex. "We're in a very positive energy together, trying to be the best parents to Everly," Dewan said earlier this year, after the split was announced. "We support each other."
This article was originally published on