All The Times Channing Tatum Was #HusbandGoals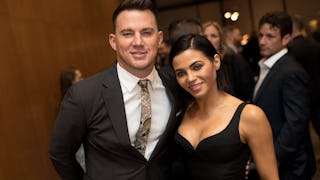 Image via Getty Images/Greg Doherty
Since becoming a husband, Tatum has won the hearts of many
He acts, he models, he dances, he dances with his shirt off in Magic Mike, and he's extremely, extremely handsome. He's also vying for the title of World's Best Husband, which isn't an actual competition but if it were, Channing Tatum would most definitely be in the running.
In case you live under a rock, the Tatum/Dewan Tatum love story is one of epic proportions. The two met while filming the dance drama Step Up and their chemistry was undeniable. They began dating during the movie and got married in 2009. The two are now parents to four-year-old daughter, Everly.
Of course, he did mess up the engagement a wee bit, telling Dewan he didn't want to get married to throw her off his proposal trail. "She basically broke down crying," he told the TODAY Show. So, he had to change tactics a bit. "I thought, 'This is not going well at all,'" he recalled. "So I had to propose to her sooner rather than later." Hey, give the guy some slack, he's most definitely made it up to her since.
https://www.instagram.com/p/BPBz_c9hHJU/
It's not hard to see why he loves his wife and wants the world to see just how beautiful she is, inside and out.
https://www.instagram.com/p/BArGjzmACAn/?taken-by=channingtatum
Tatum has made his love and admiration for his wife known over and over, sharing sweet posts on social media and little details of their marriage in interviews. From what we can see, these two are a match made in heaven.
https://www.instagram.com/p/BNkvuvchyG7/?taken-by=channingtatum
Just when you think you can't love him any more, he does things like post a flawless picture of his wife for her birthday, writing, "The transformation she invoked this year has been something they only write about in books of fairytale and magic. Your strength and grace ever evolving. By doing so you make everything around you grow- everything. And i am so very grateful for your lessons."
Well, I don't know about you but I'm a puddle now.
https://www.instagram.com/p/BcRgBwPhSKd/?utm_source=ig_embed
There are the sweet, simple gestures like this one for their seventh anniversary. Because even when they aren't trying, they're quite possibly one of the most gorgeous couples on the planet.
There's also the time he wrote a letter to his then three-year-old daughter for an editorial in the June 2017 edition of Cosmopolitan in honor of the Magic Mike Live show opening in Vegas. Because being an amazing father is one of the sexiest things a husband can do. "And that's what I want for my daughter," he said in the piece, "to be expectation-less with her love and not allow preconceived standards to affect her, to ask herself what she wants and feel empowered enough to act on it."
Of course, he just had to post a sweet picture while he was at it.
https://www.instagram.com/p/BOVgriih8nU/?taken-by=channingtatum
Sometimes, he shares a picture of Dewan with a few simple words that say it all.
https://www.instagram.com/p/BE7bA6wgCIo/?taken-by=channingtatum
https://www.instagram.com/p/BE7a3D4ACIO/?taken-by=channingtatum
If you're still questioning his Husband Of The Year award nomination, he shared a picture he took just days after their daughter was born, writing, "Watching her in those first days transform into a mother was life changing. She was every bit the beautiful, sexy, funny, flawed creature I fell in love with. But the prism turned and showed a whole new light that I had no idea existed, the light of a mothers love."
https://www.instagram.com/p/BFKOY4ogCFq/?utm_source=ig_embed
Stick a fork in me, I'm done.
This article was originally published on