Channing And Jenna Let Their Daughter Do Their Makeup And It's Epic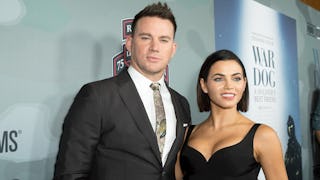 Image via Greg Doherty/Getty Images
Everly Tatum is already the best makeup artist on Instagram
Parents will do just about anything for their kids. Out of milk? Guess mom's running to the store in her sweatpants to pick some up. Want a seventh drink of water after bedtime? Coming right up. Need to practice makeup looks? Step right up, Mom and Dad; you're models now.
Celebrities are no exception, and that includes Channing Tatum and wife Jenna Dewan Tatum, otherwise known as one of the sweetest and most hilarious pairs of celeb parents out there. His recent Instagram post proves no parent escapes being the guinea pig for their child's makeup and hair practice. It was while spending time with four-year-old daughter Everly over the weekend, that the parents ended up getting a makeover that only a kid that age would administer.
TBH, we don't hate their new looks.
https://www.instagram.com/p/BgfEF5YBs0M/?utm_source=ig_embed
"This is what it looks like when a little tyrant fairy artist holds you down and makes your face look 'better,'" Tatum wrote in the caption of the shot, which showed him with a painted-on monocle and curly mustache and Dewan Tatum with a purple butterfly-inspired face mask.
BRB, need a minute to stop laughing at Tatum calling his kid a "little tyrant fairy artist." That's clearly exactly what she is.
This isn't the first time little Everly (or Evie, as her parents call her) has practiced her makeup skills on her parents. Dewan Tatum posted a photo to her own Instagram just six months ago, showing off a multi-colored glitter face that Evie had given her.
"Evie just might take over the beauty industry one day," Dewan Tatum wrote at the time. "Her finest work, I dare say."
Glad to see Evie is still flexing her makeup skills. The kid has a little, shall we say, refining to do before truly perfecting her art, but she's clearly having a great time making Mom and Dad pretty and glittery on the regular.