Channing and Jenna Celebrate 7th Anniversary By Being Adorable On Instagram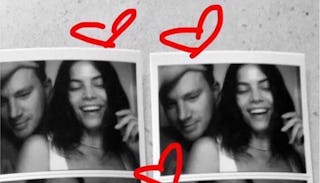 Image via Instagram
If America held a prom, Channing Tatum and Jenna Dewan Tatum would undoubtedly be crowned our prom king and queen, not just because the two of them can slay any other couple on the dance floor, but because they seem to be genuinely infatuated with each other. But while some couples gushing over each other makes us want to gag, with these two, seeing their mushy sides just makes us to be their third wheel and hang out with them all the time.
The couple celebrated their seventh wedding anniversary yesterday. They took to Instagram to give each other a special shout out. Dewan Tatum's was sweet:
Did they have to practice that tongue meld thing for a while? Or do you think they're just that perfect for each other?
Tatum's anniversary message was spicy.
He calls her Cake. How freaking cute is that?
The couple met 11 years ago in 2006 when they co-starred together in Step Up. (If you haven't seen it, yup, it's a dance movie and in spite of the high school back drop it's just as hot as you'd imagine so Amazon Prime that bad boy now and you'll have it in time for the weekend.) They've been married seven years and have a two-year-old daughter, Everly. And yes, Tatum is awwwwmazing when it comes to the Mother's Day shout outs too:
Hollywood couple or not, keeping the spark in a relationship alive after kids is tough. But these two are always giving us #relationshipgoals with their Instagram snaps. They didn't even have to make any corny, tired jokes about the seven-year-itch ( I took care of that for them. You're welcome.) While it's clear they're rocking it as parents, when it comes to their anniversary, they keep the focus just on their relationship, not their daughter. It's refreshing to see a couple who exists separate and apart from their roles as mom and dad. They take actually pictures together without their kid — and not just selfies.
As much as we all like to joke how badly we want Channing Tatum to ourselves, it's obvious he and his wife are hopelessly in love. May they have many more anniversaries like this one, and may we all console ourselves with tickets to Magic Mike Live.
This article was originally published on