Our Favorite Celebrity Dads Made Us Love Them Even More On Mother's Day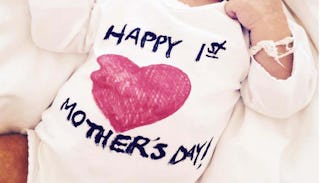 Justin Timberlake, Channing Tatum, and John Legend post Mother's Day tributes to their wives
There was some epic sap coming from our favorite celebrity dads this year, as they shared some messages of love to the mother of their children on Mother's Day. Nothing melts hearts quicker than a gorgeous man gushing over his love. And some of our favorite men in the spotlight did not disappoint this year.
Channing Tatum, John Legend, and Justin Timberlake took to Instagram to write some adorable messages for the mothers of their children yesterday — and it's all too cute not to share.
"She was so tired," Channing Tatum wrote about his wife Jenna Dewan Tatum. "But she has such deep strength and other worldly grace. Watching her in those first days transform into a mother was life changing." The couple has an almost three-year-old daughter, Everly. "She was every bit the beautiful, sexy, funny, flawed creature I fell in love with. But the prism turned a showed a whole new light that I had no idea existed, the light of a mother's love."
"Luna and I are so lucky to have you in our lives," wrote John Legend to wife Chrissy Teigen. The couple just had their first child, Luna Simone, on April 14th. "If our daughter can be even half as awesome as you, I will be so happy and proud. Happy 1st Mother's Day!"
"M.I.L.F alert!" joked Justin Timberlake about his wife Jessica Biel. The couple's first child, Silas, just turned one. "Happy Mother's Day to this AMAZING MOM AND WIFE. And to all the Mother's out there… You keep the World turning!! Hope every single one of you has an amazing day!
This article was originally published on