Channing Tatum Uses Shirtless Men And Puppies To Announce 'Magic Mike Live'
by Maria Guido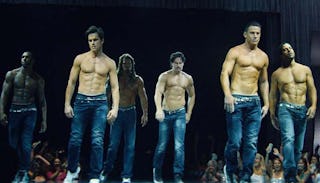 Channing Tatum to bring Magic Mike Live to Las Vegas
Channing Tatum made an announcement on his Facebook page last night that may just represent #bachelorettepartygoals for the rest of eternity. Yes, Magic Mike is coming to life — in the form a Vegas act. We can probably all think of a worse way to spend an evening.
"Shirtless men and puppies," Tatum writes to introduce the video. "What better way to announce Magic Mike Live at the Hard Rock Hotel and Casino Las Vegas." He's right. Can't think of one. Here's the video Tatum used to introduce Magic Mike Live, complete with the "hot men that he lives with everyday." And puppies.
"We want to create a place for women that is their gentlemen's club, their Playboy club. It shouldn't be sleazy. [You shouldn't feel] nervous to go there because you feel unsafe; we want to create the polar opposite of that," Tatum told Cosmopolitan. "Even when I was actually stripping, it didn't feel like it was for the women. It felt like it was more for the guy to go up and feel good about himself."
Magic Mike is fun as hell. I remember rolling my eyes when the movie came out, totally not relating to the groups of women descending on theaters. Then one night I was lounging on the couch channel surfing when I happened upon a Magic Mike rerun on TBS. I was instantly transfixed. Don't ask me what the movie was about: I have no freaking idea. I was in Channing Tatum's sexy trance for an hour and a half. At one point my partner came in the room and I actually yelled, Shut up! Magic Mike is on! It wasn't my proudest moment, but whatever.
"What if we created a world where women were given the same options as men have been given for centuries," asks Tatum. "And that's when my brain morphed into Kevin Costner from Field of Dreams, and you know what he said? If you build it, they will come."
Smart man.
This article was originally published on