Channing Tatum Channels Elsa, Performs 'Let It Go' In Full Costume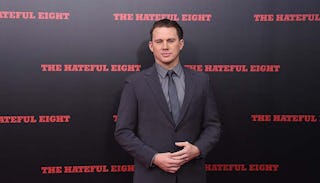 NEW YORK, NY - DECEMBER 14: Actor Channing Tatum attends the New York premiere of "The Hateful Eight" on December 14, 2015 in New York City. (Photo by Nicholas Hunt/Getty Images)
Frozen was released in November of 2013. That's over two years we've all spent singing "Let It Go." Two years. My sister bought my two-year-old an Elsa dress that lights up and plays the song for Christmas. I want to throw it out the f**king window. But even I can't wait to tune in to Lip Sync Battle on Thursday to watch Channing Tatum go full Elsa and perform the song that's been haunting my dreams for the last two years.
The show released a teaser this week that's going viral, because Channing Tatum. In an Elsa gown. Enough said.
Here are a few glimpses of his performance.
Full gown. Wig. And those moves? The upcoming lip sync battle is against his wife, Jenna Dewan-Tatum, but how can she compete with this? Maybe she'll come out in full Magic Mike costume and perform Pony. That's the only way she could trump this.
Can we love this guy any more? A few months ago he accidentally crashed a little girl's party with his daughter and ended up hanging out and buying her gifts. He did a "Vogue" dance for Vanity Fair that gave Madonna a run for her money. He's constantly saying adorable things about his gorgeous wife. I haven't considered myself boy crazy since I was seven and had Scott Baio's Tiger Beat centerfold hanging on my wall, but Tatum is taking me there again. I'd hang his Tiger Beat centerfold on my wall. Or at least hide it in my closet.
Spike is good: it's a very brief teaser. If you want to tune in for the whole performance, Tatum will be on the Spike show on Thursday at 10:00 p.m. ET.
This article was originally published on