The Charcuterie Wreath Is Here To Feed Your Christmas Soul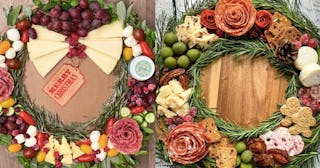 Bravo Boards/Jennifer Durham/Instagram
Gentlewomen of the internet, here are some tips on how to personalize your own charcuterie wreath.
Since most people will spend Christmas at home this year, it's more important than ever to, as Dorinda Medley would say: 'Make it nice'. There's something about charcuterie that is really taking off this year, first with chalets and now with a take on the traditional holiday decoration. Presenting…the charcutewreath.
As with any charcuterie board, you'll want your favorite carbs, cheeses, and small bites. Instagram posts using #CharcuterieWreath are popping up on Instagram, with hundreds so far. We've curated a collection of the tastiest pictures, alongside some tips to make your charcuterie wreath even yummier and 'gram worthy.
Instagram account @olivebleu_charcuterie_chic created flowers and mini Christmas trees with their meat; @smalltownfoodandwine incorporated nuts and flowers; @cheesesilvousplait added pinecones and sugared grapes; while @thehappyhoursco added a tiny pot of honey and a handful of cornichons.
This edible decoration combines the traditional wreath decoration with charcuterie. The open space in the middle leaves a space for dips, vegetables, crackers, bread, and more.
This new charcuterie trend is made for social media, as it's been prettified more than Sandra Bullock in Miss Congeniality. The Travel recommends adding toothpicks to your design, which will make it easy for little hands to grab a taste. Instructions on the site suggest putting a glass or cup in the center of the desgin and building around it.
A wreath's shape makes it easier for the designed-challenged to create a pretty setting. Fresh or dried fruit, cheese, pretzels, hummus… a charcuterie wreath can hold most meat-and-cheese-tray-type foods.
Some Instagram users create a minimalist charcuterie wreath by only adding fruits, nuts, and cheeses that hug the traditional curve of a wreath. Others go for a fancier, no-holds-barred wreath, creating more of an antipasto presentation.
This makes for a gorgeous presentation — especially when our overachieving friends (we're looking at you, Type-A ladies) build an alternating pattern of colorful treats, like red or green peppers, bright wedges of melon, crisp cucumber medallions, tiny cherry tomatoes, shiny black or green olives, pretty slicks of jam, and the creamy addition of soft cheeses.
In a pairing that can only be described as a love story, others add a bit of sweetness by adding cookies, candy canes, gingerbread men, fruit, or chocolate as accents.
Most Instagrammers sprinkle their wreathes with a bit of greenery, using rosemary, spinach, or lettuce to provide a pop of color. Adding the leafy greens makes the wreath count as a salad. Not convinced? Add oil and vinegar on the side and dare anyone to tell you differently.