Charisma Carpenter Accuses Joss Whedon Of Abuse Of Power During 'Buffy' Era
by Madison Vanderberg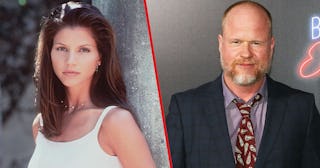 Gabriel Olsen/Getty
Another actor comes forward with accusations against Buffy creator Joss Whedon
For way too damn long, Buffy The Vampire Slayer and Angel creator/producer Joss Whedon has been beloved for creating so-called "feminist" tv-shows because they feature bold and brash female leads. His shows are beloved, he's amassed a geeky fandom, and he's gone on to direct Marvel and DC superhero films. But now some actors are finally speaking out about his "abusive" and emotional manipulation on set. Charisma Carpenter, who starred on both Buffy and Angel as fan-favorite character Cordelia Chase, penned a heartbreaking letter to Twitter detailing the verbal and emotional abuse that Whedon put her through on his sets.
In a lengthy open-letter, Carpenter accused Whedon of abusing "his power on numerous occasions" and creating a "hostile and toxic work environment." She said he constantly threatened to fire her, called her "fat" when she was pregnant, asked her if she was "going to keep it," and "then unceremoniously fired me the following season once I gave birth."
"Joss has a history of being casually cruel," Carpenter wrote. "While he found his misconduct amusing, it only served to intensify my performance anxiety, disempower me, and alienate me from my peers." She says the way he treated her all those years triggered a "chronic physical condition" with which she still suffers.
"He was mean and biting, disparaging about others openly, and often played favorites, pitting people against one another to compete and vie for his attention and approval," she added.
Using the hashtag, #IStandWithRayFisher, Carpenter is speaking out now in solidarity with actor Ray Fisher who also recently accused Whedon of 'abusive, unprofessional' behavior on the Justice League set.
In a tweet, Fisher wrote that "Joss Wheadon's on-set treatment of the cast and crew of Justice League was gross, abusive, unprofessional, and completely unacceptable." This led to Warner Bros launching an internal investigation of Whedon's conduct on-set, which apparently "concluded" in December and "remedial action" was taken, though it's unclear what exactly or for whom.
Today, Fisher tweeted in support of Carpenter's statement, writing, "Charisma Carpenter is one of the bravest people I know. I am forever grateful for her courage and for her lending her voice to the Justice League investigation. Read her truth. Share her truth. Protect her at all costs."
Additionally, Whedon's ex-wife Kai Cole wrote an op-ed for The Wrap in 2017 about how he cheated on her for most of their 20 year relationship, gaslighting and manipulating her for years. In her letter, she cautions fans to stop celebrating this a man as a feminist just because he created some female-fronted TV shows you like. "Despite understanding, on some level, that what he was doing was wrong, he never conceded the hypocrisy of being out in the world preaching feminist ideals, while at the same time, taking away my right to make choices for my life and my body based on the truth. He deceived me for 15 years, so he could have everything he wanted," she wrote (via The Wrap).
Other Buffy actors have come forward to corroborate all these allegations. "Buffy was a toxic environment and it starts at the top. [Carpenter] is speaking truth and I support her 100%. There was a lot of damage done during that time and many of us are still processing it twenty plus years later," said Amber Benson, who played Tara Maclay on Buffy .
Throughout all these allegations, many have wondered what Sarah Michelle Gellar, Whedon's longtime muse, has to say and on February 10, 2021, after Carpenter broke her silence, Gellar wrote on social: "While I am proud to have my name associated with Buffy Summers, I don't want to be forever associated with the name Joss Whedon."
"I stand with all survivors of abuse," Gellar continue. "And am proud of them for speaking out."
This article was originally published on