Pregnant Woman Shot By Police In Front Of Her Children After Calling For Help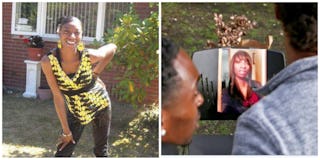 Images via Twitter
The disabled mother of four had known mental health issues
Seattle police shot and killed a woman who had called for police assistance on Sunday. As if that weren't bad enough, she was shot in front of several children and her family says she was pregnant.
Thirty-year-old Charleena Lyles called police on Sunday morning to report a burglary and two officers were sent out to investigate. According to a statement by the Seattle Police Department, although one officer is usually dispatched for these types of calls, two officers were sent because of an "increased risk" associated with the address.
Seattle Police released an audio of the incident on Monday, which is disturbing to say the least. On the audio tape, the officers – both of whom are white – can be heard discussing Lyles' previous calls to the police and known mental health issues. After a calm conversation with her about missing items, officers suddenly yell "Get back!" and a few seconds later shots are heard.
Her family described her as a "tiny" woman, and said she was several months pregnant and had been struggling with mental health issues for the past year. They told the Seattle Times she was concerned authorities would take her children, one of whom has Down syndrome. Several children were in the apartment at the time of the shooting; none were physically injured, but seeing their mother shot and killed will likely create lasting emotional injuries.
Family members are not only grieving her death, but also demanding answers. Why didn't the officers use non-deadly force to restrain her? Why didn't officers use the less lethal force options they were equipped with? How is it possible that two officers couldn't restrain a "tiny" 30-year-old woman without using guns? And when will we stop all this madness?
Say it with me: Black Lives Matter.
"Why couldn't they have Tased her? They could have taken her down. I could have taken her down," Monika Williams, Lyles' sister, told the Seattle Times.
The Washington Post reports that an investigation into the officers' decision to use deadly force is underway, and both officers will be placed on administrative leave during the investigation.
Three of Lyles' four children were in the apartment when she was shot. All of them are currently being looked after by family.
Monika Williams, Lyles' sister, told TV station KOMO News that her sister had been arrested and charged with obstruction of justice earlier this month when she refused to hand over one of her children to officers until her sister had arrived. She had scissors in her hand at the time, "she didn't charge nobody or nothing," Williams told KOMO News.
Although Lyles had previous altercations with the police, none of this justifies or explains the use of force, much less deadly force, on a tiny pregnant woman who was holding (or even wielding) a knife. What's more, half of people shot by police have a disability.
A vigil was held Sunday night honoring Charleena Lyles. Mourners taped photos of her with her children to the back of black plastic chairs and spelled her name in small votive candles on the sidewalk. Lyles' friends and family wondered aloud how police could shoot and kill a mother in front of her children.
How indeed?
One more time for the people in the back: BLACK LIVES MATTER.
This is why we say it. This is why we need to keep saying it.
This article was originally published on