Charlie Rose Has Now Been Accused Of Sexual Misconduct By 35 Women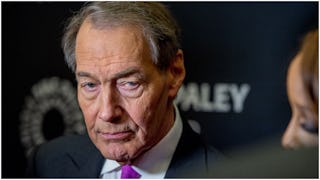 Image via Roy Rochlin/Getty
Charlie Rose has been accused of sexual misconduct by even more women
Accusations against Charlie Rose are adding up. 27 women have now stepped forward with stories of the news anchor allegedly sexually harassing or assaulting them. That's in addition to the eight women who have already spoken up publicly about Rose's inappropriate behavior. Unsurprisingly, their allegations will make you sick to your stomach.
Last November, Rose was fired from CBS and PBS after The Washington Post published a report that the news anchor had allegedly sexually harassed multiple women. Now, even more women are opening up with allegations about Rose's gross, wildly inappropriate behavior. First, there was Joana Matthias, who said Rose touched her chest and exposed himself while she was working as a research assistant at NBC News.
Then there was Annmarie Parr, who said that the news anchor asked her questions about her sex life. "Annmarie, do you like sex?" he allegedly asked. "Do you enjoy it? How often do you like to have sex?" She reported the incident to a senior producer and asked that she not be left alone with Rose. The producer reportedly laughed but agreed.
It sounds like Rose's behavior was something of an open secret at the network with his behavior brought to managers' attention as far back as 1986. When Susan MacArthur interviewed to be Rose's assistant in the 90's, she said a CBS executive warned her about the news anchor's "questionable behavior."
"She looked me dead in the eyes and said, 'You are going to be working alone with this man and being alone with this man in his hotel, and you need to think really hard about whether you want to do this,'" MacArthur said.
Meanwhile, Rose's bad behavior continued unchecked. In 2011, he allegedly kissed a CBS staff member without permission. In 2013, he allegedly groped 60 Minutes employee Sophie Gayter. This completely inappropriate touching wasn't unusual at the network, Gayter told The Washington Post. "People said what they wanted to you, people did what they wanted to you."
So, how is CBS dealing with these accusations? USA Today shared an internal email written by the network's president David Rhodes, which said upper management was putting a "significant focus" on reexamining its practices.
"In light of today's article, I'd like to share that we have continued to investigate a number of issues consistent with our long-standing policies," he said. "As needed our company has supported this effort with the independent advice of one of the nation's preeminent employment lawyers from Proskauer, which has a highly-regarded practice in these matters."
Hopefully, this investigation happens quickly and efficiently. After all, if executives knew as much as it seems like they knew, they should have had more than enough time to figure out a solution.