Charlize Theron Shares Rare Photos Of Family On National Daughter's Day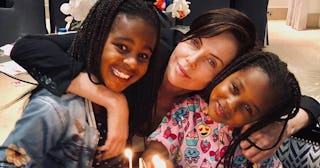 Instagram/Charlize Theron
Charlize Theron shared rare photos of her children, August and Jackson, in honor of National Daughter's Day
In early 2012, Charlize Theron quietly welcomed her first child, Jackson, announcing she had become a mother in March 2013. In July 2015, she adopted her second child, August. While the Academy Award-winning actress remains one of the more private stars in Hollywood, rarely sharing photos of her children, she has been completely open about the fact that Jackson proudly came out to her as trans at a young age. And, on Friday, she shared a touching tribute to both of her kids on National Daughter's Day.
"My heart belongs to these two beautiful powerhouses," Theron captioned four truly adorable photos of August, 5, and Jackson, 8, along with one family photo of the trio.
"I will never be the same. Happy #NationalDaughtersDay ❤️," Theron added.
In 2014, Theron shared with Jimmy Kimmel that Jackson preferred princesses over other toys. Of course, because everyone has opinions and can't seem to mind their own business, it sparked some criticism. Then in 2016, Theron was shamed when photos surfaced of Jackson dressed up like Frozen's Elsa. She was not only slammed with transphobic rhetoric but was also confusingly accused of racism.
However, because Theron is a kick-ass mom and progressive human being, she has refused to apologize for her children's identity and has embraced it. In early 2019, she officially revealed to The Daily Mail that at the age of 3, Jackson made a revelation to her.
"I thought she was a boy, too," Theron told the publication. "Until she looked at me at 3 years old and said, 'I am not a boy!'"
"So there you go! I have two beautiful daughters who, just like any parent, I want to protect and I want to see thrive," she continued. "They were born who they are and exactly where in the world both of them get to find themselves as they grow up, and who they want to be, is not for me to decide. My job as a parent is to celebrate them and to love them and to make sure that they have everything they need in order to be what they want to be. And I will do everything in my power for my kids to have that right and to be protected within that."
Months later in an interview with Pride Source she explained that the reason why she finally addressed the issue to the publication, was because people were using the wrong pronouns to describe her daughter and it was hurtful.
"My daughter's story is really her story, and one day, if she chooses, she'll tell her story," she explained. "I feel like as her mother, for me, it was important to let the world know that I would appreciate it if they would use the right pronouns for her. I think it became harder for us the older she got that people were still writing about her in the wrong pronouns, and also I was still talking about her in the press using the wrong pronoun. It really hurt her feelings."
Happy National Daughters day to the beautiful Theron family!