This Charlize Theron Casting Story Shows Just How Backwards Hollywood Is
by Thea Glassman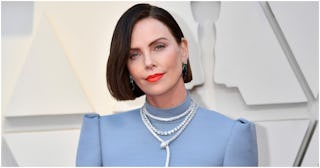 Jeff Kravitz/Getty
Casting directors wanted to cast Charlize Theron in Wonder Woman…as Wonder Woman's mom
Ready to roll your eyes alllll the way to the back of your head and then maybe throw your laptop out the window? Charlize Theron appeared on Watch What Happens Live last week and revealed that she was considered for the role of Gal Gadot's mom in Wonder Woman. Quick and important fact check: Theron is only nine years older than Gadot.
This insane story came up when a WWHL caller asked Theron if it was true that she turned down the role of Wonder Woman. The actress promptly explained that, no, that was not true – and there was a whole lot more to that story.
"This is a great of example of how Hollywood slaps you in the face when you start aging," she said. "So somebody had said to me, 'Oh, there's action on this thing, Wonder Woman—we just want to make you aware of it.' And I was like, 'I'm just not familiar with it … I mean, what does Wonder Woman do?' And this person said, 'No, it's for Wonder Woman's mom.'"
This is disappointing, sadly unsurprising, and a reminder that ageism is alive and well in Hollywood. "It was the defining moment where I crossed over," Theron said. "And I wasn't fully aware of it."
The actress has been very open about the disproportionate challenges that women face as they get older, both inside and outside of Hollywood. In an interview with GQ, Theron explained that there's an insane double standard when it comes to aging.
"We live in a society where women wilt and men age like fine wine. And for a long time, women accepted it," she said. "We were waiting for society to change, but now we're taking leadership. It would be a lie to say there is less worry for women as they got older than there is for men… It feels there's this unrealistic standard of what a woman is supposed to look like when she's over 40."
Want further proof on this issue? Let's take a look at some examples on film. In Forrest Gump, Sally Field was only ten years older than Tom Hanks and was cast as his mother. Angelina Jolie played Colin Farrell's mom in Alexander and she was a whopping one year older than him.
Would it be too crazy to cast these female actresses as the love interests of their younger male co-stars? I mean, the reverse happens literally ALL OF THE TIME. Nope, not furious about this situation at all.
Here's hoping that Hollywood gets over its ageism problem. If not, we're sending Charlize Theron's character from Atomic Blonde after every single discriminatory producer.