Woman Goes Viral After Casually Belting Out 'Shallow' In The Subway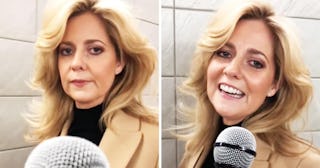 Kevin Freshwater/Instagram
Charlotte Awbery's star was born when she was asked to finish the lyrics to Lady Gaga's hit song "Shallow" while riding the London Underground
In A Star Is Born, Lady Gaga plays an aspiring singer (Ally) who is thrust into superstardom after a dude (Bradley Cooper's character Jackson Maine) randomly hears her beyond gorgeous voice and encourages her to share it with the world via the song Shallow. In a life-imitates-art moment, a random subway goer has been thrust into viral fame after a video of her singing the exact same song, after having a microphone shoved in her face by British web personality Kevin Freshwater as part of his skit, Finish the Lyric.
Charlotte Awbery, 30, was doing her thing in the London Underground, when Freshwater challenged her to finish the lyrics of the Oscar-winning song.
"Tell me something, girl: Are you happy in this modern world?" he sings to her, holding the microphone up to her. Without missing a beat, the she perfectly continues the song. "Or do you need more," she sings.
"Wow! You're really good — keep going," he tells her. She obliges, and the result is literally incredible.
https://www.instagram.com/p/B81e6Skh7ak/
People were so blown away by Awbery, that the video has been viewed nearly 600,000 times on Instagram, 13 million views on Facebook, and she herself has amassed over 100,000 additional followers in just days, according to Buzzfeed.
"OMG WOW! I am completely blown away!" Awbery, who has been a professional singer for quite some time, wrote in an Instagram post about the viral response to her singing. In fact, a few of her covers of hit songs like Judy Garland's Over the Rainbow, Sia's Chandelier, Prince's Purple Rain, and Celine Dion's Love Is On The Way have gone viral in the past. (FYI, she has recently reshared a bunch of her cover songs on Twitter, and each one is just as impressive as her subway performance!)
This also isn't her first performance of Shallow. In October 2018 she posted a video of herself singing the tune to her Instagram account.
https://www.instagram.com/p/Bo8o01TF7ED/
Of course, some people on social media are saying the whole subway thing was staged. However, she herself, seems pretty shocked about her overnight celebrity status.
"I've been in this business for over 10 years," she tweeted. "I never expected it to happen in such an unexpected and amateurish way."
Either way, Charlotte Awbery's star is born, and we're hopefully going to be seeing a lot more of her in the future.
This article was originally published on