If You're A Teacher, You Could Win A Free Flight To A Mexican Vacation
by Christina Marfice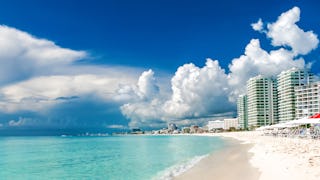 Image via Pola Damonte via Getty Images
Teachers, you deserve a vacation, and CheapCaribbean might give you a free flight
Spring break is officially behind us, which means the 2018-2019 school year is inching ever closer to its end. The light at the end of the tunnel, AKA summer vacation, is finally coming into sight. Teachers, have you figured out how you're going to celebrate making it through another year?
Vacation booking site CheapCaribbean wants to help. Ahead of Teacher Appreciation Week, educators can sign up on a dedicated page on their website to become eligible for one of 50 free flights to a Mexican resort. Oh, and they also get to bring a plus-one, completely free.
The program is called Beach4Teach, and by joining the Beach4Teach Club, teachers become eligible for all kinds of special deals, discounts, prizes, upgrades, packages and more from CheapCaribbean. And educators who sign up before midnight CST on May 9 become eligible to snag one of the 50 pairs of free flights to Mexico. Go ahead, Teach, what are you waiting for?
Here's how the free flight promotion works. After signing up for membership in the Beach4Teach club, members need to book at least six nights at one of five beach resorts in Mexico: Zoetry, Breathless Secrets, Reflect, Now or Sunscape. The trip has to be scheduled for between July 10 and December 31, and there are some blackout dates that aren't eligible.
On May 10, every teacher who signed up for the club and booked an eligible trip will receive an email with more details about how they can score free round trip flights for themselves and a guest. Only 50 are available, so you might want to spend that day hitting refresh over and over on your inbox.
You may want to sign up a little ahead of the deadline, because you have to prove you're an active teacher in order to join (yes, these deals are really exclusively for educators). That means you'll need to submit a pay stub, state education certification, or your profile on your school's website. Then, it can take up to 10 days for the site to review your application and let you know whether you're accepted to the club. But once you're in, it's nothing but planning the beach vacay you deserve, because let's face it — teachers have a hella hard job. They're literally shaping the future of our next generation, and they're often doing it for way too little pay. If anyone deserves access to a bunch of discounts on trips to the beach, it's the people who teach our kids.
If a tropical vacation isn't your jam and something like a cruise is more your speed, Norwegian Cruise Lines is giving away 7-day cruises for teachers, too. Winning one of those requires submitting an essay application, and there's only one day left to enter, so you'll have to hurry.
Summer 2019 is looking like it'll be a great one for teachers — with all these opportunities to relax and recharge, they'll be more than ready to resume their incredibly important work come fall. In the meantime, let's give them the pampering they deserve.
This article was originally published on