Cheerleader LaDarius Marshall Is The Hero We Need Right Now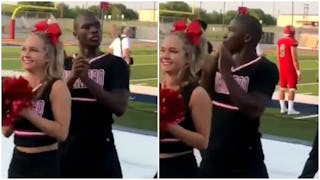 FWBHS grad LaDarius Marshall cheers at Navarro College
America, LaDarius Marshall is the hero we need.
On August 23, 2018, his beloved Navarro College Bulldogs played a football game against Georgia Military Academy. It was a home game, at Corsica, Texas's Tiger Stadium, and Marshall was so there for it. Of course, as a cheerleader, school spirit is his job. But school spirit isn't enough to describe this hip-shimmying, shoulder-tossing, booty-shaking, totally extra cheer routine.
He slides like Elvis. He shakes like Beyonce. He is in his element, his glory. He's doing what he loves and loving what he's doing. And when he claps and chants "Gooooooo Bulldogs!" it's clear he's in love with his team.
You almost feel bad for the people surrounding him because they are clearly standing next to a damn force of nature. This is cheer incarnate, y'all.
Marshall attended high school in Fort Washington Beach, Florida, where he earned a cheerleading scholarship to Navarro College, a junior college in Texas. As of August 2018, according to the North Fort Worth Daily News, the video of Marshall, shot by a coach, had 12 million views, 240,000 shares, 90,000 reactions, and 56,000 comments. We can only assume that's skyrocketed since Good Morning America and ABC News picked up LaDarius shortly thereafter.
Of all the attention, LaDarius, a 2017 high school grad, told the local paper, "I honestly feel so loved. I feel that I made so many people's days better and happier."
He started cheering as a freshman in high school, when he got interested in tumbling. He loves to cheer, and he loves not only cheering for a team, but cheering competitively.
"Feeling the lights, adrenaline and support for your team makes competing so much more than winning," he said.
And his love shines through when you see him cheer. The shake. The head toss. The face. The moment when he throws the girl up in the air and gives the audience that perfect little smirk, like, "Oh, yeah, you know we Bulldogs are badass."
Most importantly, though, Marshall told Good Morning America, "I feel that the video going viral was just a glimpse into my life and how I am all the time."
If he's like this all the time, we need more LaDarius Marshall in our lives. We need the Tao of LaDarius. We need to drink our Starbucks like LaDarius and run our errands like LaDarius and know, deep down, that we are awesome like LaDarius, capable of standing in the back and rockstarring it from wherever we are in the world. Capable of doing what we love and loving what we do no matter how weird society may see it. We need to be that greatness. We need to find it in ourselves and Let. It. Out.
"This video was pure joy and school spirit and I wouldn't change it for the world," he told GMA.
Yes. We need to find that joy for ourselves. Maybe it's in a hobby. Maybe it's in love. Maybe it's in writing or dancing or stolen moments of belting out Angelica's part in Hamilton. Maybe it's in a water balloon fight with your children or a wearing a tutu to Target. But damn it, if LaDarius Marshall can tell us anything, it's that we need to find that joy, and live that joy, embody it, flash it so all the world can see without worrying about what other people will think.
Because our joy is contagious.
Oh, and by the way, the Bulldogs won the game that night.
This article was originally published on