High School Cheerleader Saves Choking Toddler At Homecoming Parade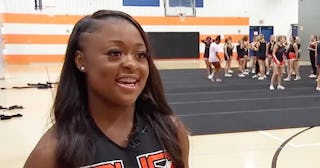 FOX51/Youtube
A Texas cheerleader put her first-aid training to good use, and reminds us that we should all be CPR certified
A cheerleader normally has one job: Entertain the crowd at an event with incredible dance/tumbling skills. But at the homecoming parade for Rockwell High School in Texas, one member of the cheerleading squad did so much more than that: She saved a child's life.
Senior Tyra Winters, age 17, was on a parade float doing her cheerleader duties with the rest of the squad when she saw something terrifying off the side of the street: A little boy was choking on one of the pieces of candy that had been tossed into the crowd during the parade. The little boy's mom, Nicole Hornback, saw that he was choking, but didn't know what to do. She was holding 2-year-old Clarke up in the air and screaming for help, which is when Winters spotted them.
"I hear someone screaming, 'Help, help, my son's choking,'" Winters told reporters. "I picked the kiddo up, I tilted him downward, and I gave him two or three good back thrusts. He started breathing again, so I gave the kiddo back to his mom and I started running and jumped back onto the float before I missed it."
Yep, you read that right. Winters jumped off the float, performed the Heimlich on the little boy, and without ever exchanging names with Hornback, returned to the cheerleader float to finish out the parade. She was a hero, just like that.
"She came running and she just started performing what I believe is the baby Heimlich on him," Hornback said. "To just feel so useless as a mother was the most terrifying thing in my life."
It wasn't until Hornback posted a thank you on Facebook that anyone even know it was Winters who had saved little Clark's life. Later, the two were reunited so Hornback could thank her personally. "I commend her for being a teenager and being trained," Hornback tells KTVT. "She saved my baby."
While this story has a happy ending, it should be a harsh reminder for parents that it's so important to be CPR certified and to know how to give first-aid to kids of all ages. The adult Heimlich maneuver doesn't work on young kids under a certain weight, so knowing how to help a choking infant or toddler is a whole different skill set. Luckily, Winters comes from a family of medical professionals and knows what to do, but this story could just as easily have had a tragic ending.
Thanks to Winters, though, everything was OK this day. And that cheerleader is also a hero to a mom, her son, and their whole community.