This Cheerleading Tryouts Poster Looks Like A Beauty Pageant Prep Guide
by Jerriann Sullivan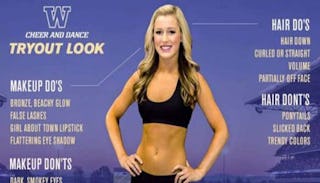 False eyelashes, nude nail polish demanded for cheerleading tryouts
The University of Washington cheerleading squad took down its "do's and don'ts" tryouts poster that lists a very specific look after being shamed on a national level. Critics called out the organization for putting together more than 20 ways students should look while failing to remember that cheerleading is a sport that requires talent and athletic ability.
Having been the captain of my cheerleading squad in middle school, I am slightly familiar with the activity. And while a certain level of pageantry is encouraged (wear some blush on game day) it is ridiculous to list ways students should look. For example, false lashes. In between splits make sure your falsies are looking fresh and that your "girl about town" lipstick is the perfect shade. And don't forget to achieve a "bronze, beachy glow." How else will you land that backflip? The poster went up on the squad's Facebook page last week but was deleted the next morning. "The graphic was removed immediately after a UW athletic department official saw it and determined that some of the details and descriptions provided were inconsistent with the values of the UW spirit program," the school's athletic department told People.
A member of the UW spirit leadership team created the graphic after receiving lots of questions from students about cheer and dance tryouts. That defense doesn't explain why requiring students only wear a black sports bra and shorts is significant for cheerleading tryouts. The list of absurd requirements was met with anger on campus and online.
The school's student government agreed. Associated Students of the University of Washington released a statement saying that the poster "completely objectifies women and creates barriers that only perpetuates the inaccessibility of opportunities that should be open for every student on this campus," Good Morning America reported. At least one former UW cheerleader shared the same opinion. "It was a wonderful experience … now when I read about these 'tips,' I'm embarrassed to say that I was ever a Husky cheerleader," Nancy Anderson told the The Seattle Times. She cheered for two years in the late 1960s when the team had no coach, did their own choreography, and drove themselves to games. Anderson called the poster's tips "racist, sexist, and outrageous."
Others defended the poster. Like Kyle Smith who wrote "Pasty-faced Womyn's Struggles majors attending rallies in shapeless sweatshirts, and black-clad Emily Dickinson fans emoting agonized coffeehouse verse were not the target audience," in his column for the New York Post titled "Relax, it's OK for cheerleaders to look hot." Smith hasn't learned that one can like Emily Dickinson and be a cheerleader. It takes all kinds of people to make a team, which is what a cheerleading squad is.
Everyone seems to forget that cheerleading, invented in 1898, is a sport. The first teams focused on school spirit, but over the last few decades cheering has become a competitive athletic endevour. Watch one cheer conference on an ESPN secondary channel and you'll see stunts that only athletes can do. "Cheerleading involves skills which require the strength of football, the grace of dance, and the agility of gymnastics," the American Association of Cheerleading Coaches & Administration wrote.
Hopefully, next year's poster will focus more on the complicated jumps, pyramids, tumbles, and gymnastics the students master for their sport.
This article was originally published on